Federal Bunk Bed Rules have changed
United States Safety Commission for products have sent out a new mandatory safety design standard for all hostel bunk bed manufacturers aimed at users and purchasers of bunk beds. Camps, universities and international traveler hostels around the globe as well as in the USA should ensure that the commercial bunk beds that are being purchased should meet the new standards. ESS Universal Dallas and Missouri manufactured bunks have always met these standards but there are some hostel bunk bed manufactures that do not yet meet these requirements. The new standard which come into force in 2000 is a direct result to approximately ten deaths annually caused by entrapment on child and adult bunk beds.
A voluntary standard put out by [ASTM] in 1992 just isn't being adhered to by some hostel bunk bed manufacturers who still build dangerous wood and metal bunk beds that can cause serious injuries or even death.
Bunk bed rule changes
Safety Commission standards has made a few changes to some guidelines
The standards specify:
The guard rail on the wall side of the bunk bed must now go straight across from end to end

Specific size gaps on the bunk bed ends must not exceed 75mm so that children's heads cannot become trapped

Manufacturer identification labels have to be affixed on all bunk beds

Mattress maximum height indicators must be affixed on all commercial bunk beds as well as domestic models
Retailers and distributors can be held accountable for none compliance, severe penalties against manufacturers for bunk beds that do not comply, fines can lead up to one and half million dollars US and shipments of bunk beds may be halted at port made by overseas manufacturers and distributors.
All hostel bunk bed manufacturers must meet the following requirements
Hostel bunk beds or domestic type bunk beds that a sleeping platform is over 76 centimeters from the floor must have safety side rails on both sides of the bunk bed and on the wall side must join end to end.

Gaps in the frame of the upper sleeping compartment must be less than 9cm to prevent children's head or body from entering causing entrapment.

Openings in the lower bunk end structures must be small enough to stop entry by a child's head or body or so large that the gap will allow the child's head and body to pass through freely.

The bunk bed must be labelled to identify the manufacturer, mattress height limit, the bunk bed model type number and the date the bunk bed was manufactured.

Assembly instructions must accompany the bed and warnings not to allow children under six to occupy the upper sleeping paltform.
This script is an advisory issue only and cannot be used as intended other than partial advice for hostel bunk bed manufacturers. Full details can be obtained by visiting www.cpsc.gov.
Safety issues concerning mattresses on top sleeping platforms
Most of us have seen the actor Steve McQueen in the movie 'The Great Escape'
The danger of mattresses or even the occupier falling down into a lower bunk bed compartment is real and can cause serious injury. Most responsible hostel bunk bed manufactures ensure a commercial bunk bed base is strong enough to take at least 250 to 300 lbs so take the time to check that the bed base is strong enough for adults as well as children. ESS Universal recommends a fully welded steel mesh type with at least 5 cross bearers.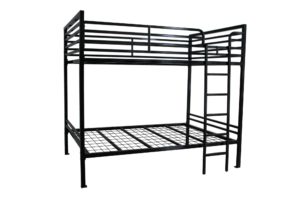 Replacing used bunk beds ESS advises to have these strict but crucial standards in mind and invites camps, hostels and universites to contact ESS direct via the website heavydutybunkbeds.com or heavydutybunkbeds.cn in Asia .