Our industrial grade steel adult single metal bed frame is one that is built to last. It may even outlast you. You will have a hard job breaking it too, so it's ideal for any heavy duty use, including kids usage which needs to see them through the their upbringing. Now you can let them jump on the bed as much as you like without fear of them falling through it either.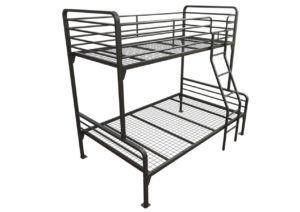 These beds are fit for any military too, and can used as Army Barrack beds as well. Mum's can breathe a sigh of relief.
The features of our amazing 'Dallas Single' include:
• to 1.2mm wall thickness steel construction
• Polyester epoxy powder coating pain finish
• Heavy duty grade mesh sleeping panel with 5 support beams (not just angel iron)
• full adult length and full single width
• foot plates pre-drilled to bolt to the floor is necessary
• Will take 3 of the L1 under bed storage lockers
ESS Sleep Systems is a distributor of quality army barrack grade bunk beds for commercial markets. With distribution servicing the U.K., Europe, Scandinavia, Africa, and America we are committed to you, the customer. We pride ourselves on fulfilling orders with innovative products, which are sourced both nationally and internationally. All products have been subjected to vigorous standard compliance testing, so you can rest assured that your beds will be of the highest possible quality at the best possible price… Our Company, Your Solution.
When you buy from us, you are not just making a purchase; you're making an investment. Our mission is to provide the best price imaginable without ever compromising on quality. We aim to be at the forefront of fabrication techniques as well as ground-breaking new product developments. Our dedicated staff looks forward to providing you a high quality army barrack grade product at a great price! Please do not hesitate to reach out with any inquiries!
We guarantee we have the solution for you!