Whether you run a Christian camp, a backpacker hostel or a scout camp you will do yourself a big favour choosing bunk bed manufacturers. However it is important to choose the right bunk bed manufacturer, as many as 90% of bunk bed manufacturers produce beds for domestic use, not very good for a commercial environment such as hostels.
Longevity out of your bunk beds
Your guests will remember the comfort you provide as well as the comforts that you did not provide!. Purchasing the correct quality hostel bunk bed and associated equipment is essential; travelers staying at budget accommodations are increasingly expecting more comfortable out of bunk beds and expect accessories such as charging devices for such things as tablets, smart phones and other technical gadgets.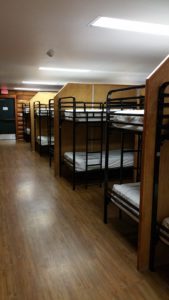 Quality bunk beds should have quality, comfortable mattresses, mattresses that are a high density foam because a foam mattress will contour around the shape of the body and next generation to memory foam which can become uncomfortable hot during sleep.
Another important factor to remember when offering comfortable bunk beds in a hostel or summer camp situation is noise, traditionally it is expected that a metal bunk bed will squeak and even groan! Choosing quality bunk bed manufacturers of commercial use typically design and manufacture bunk beds with strength and robustness. Very often it is the joints of the metal bunk bed that become noisy so ensure you choose care free triple bunk beds or double bunk beds that are designed for the commercial sector.
ESS [Equipment Supply Solutions] has designed the Dallas bunk bed range to combat all the issues you may find with your wooden bunk beds and domestic bunk beds; using our range will ensure your guest is sleeping on comfortable bunk beds.
Commercial bunk bed manufacturers accessories
Bunk bed manufacturers such as ESS has numerous products that compliment bunk beds, however ESS Dallas commercial bunk bed range boast the latest technology and even funky accessories to compliment its bunk beds range. Whether its the Dallas D2 double metal bunk bed or the Skyscraper of the Dallas range – The mighty Triple bunk bed, ESS has it all!
Accessories such as bunk bed privacy panels
Privacy panels are a good alternative to bunk bed privacy curtains, this more robust privacy system can offer enough privacy inside a sleeping compartment and can be designed with transfers to give that 'funky' look. More backpacker hostel bunk beds are using this system over bunk bed privacy curtains and even having the front of under bed storage lockers in a matching design.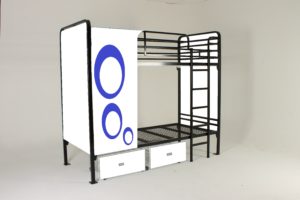 Bunk bed power panel
Bunk bed manufacturers like ESS are also getting really creative! ESS launched its power panel this year which has become a fabulous addition to the camp bunk bed range. Including many features it has become useful in many other applications such as the home office, the kids bedroom and a essential addition in a university dorm bunk bed.
The ESS 'Power Panel' comes in three main colours; black to match most of the Dallas bunk bed range, violet that can cater for boys and girls beds and striking white for commercial bunk beds. Just look what ESS Power Panel boasts:
International power socket combined USB port to charge tablets and smart phones
A fan that can move the air in a hostel bunk bed
A reading/night light helps the sleeper find their way into bunk bed compartments
A handy locker large enough to hold a smart phone
A generous large shelf that can stabalise a tablet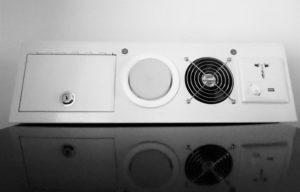 Why not visit the ESS website today to brows the comprehensive brochure www.heavydutybunkbeds.com

---
ESS Universal manufactures and supplies high-quality, cost-effective commercial grade beds, mattresses, and furniture to camps, hostels, shelters, dorms and more. View our entire line of furniture products including our popular waterproof foam mattress for institutional use, single metal bed frames, single over single bunk beds, single over double bunk beds, and triple bunk beds. Download our catalog for detailed information on our complete product line.