High-volume sleeping areas — dorms, hostels, campsites, shelters, and others — face the challenge of providing sufficient sleeping arrangements for multiple parties in a limited amount of space. ESS's Dallas triple bunk bed is the answer.
The Dallas triple bunk bed is built to contain more sleepers in less space, without sacrificing floor area, security, privacy, or comfort. With top-grade construction and design principles, easy maintenance, and an affordable price, the Dallas triple bunk bed is the perfect multiple-sleeper choice for high-traffic, high-turnover accommodations — or even houses with larger families.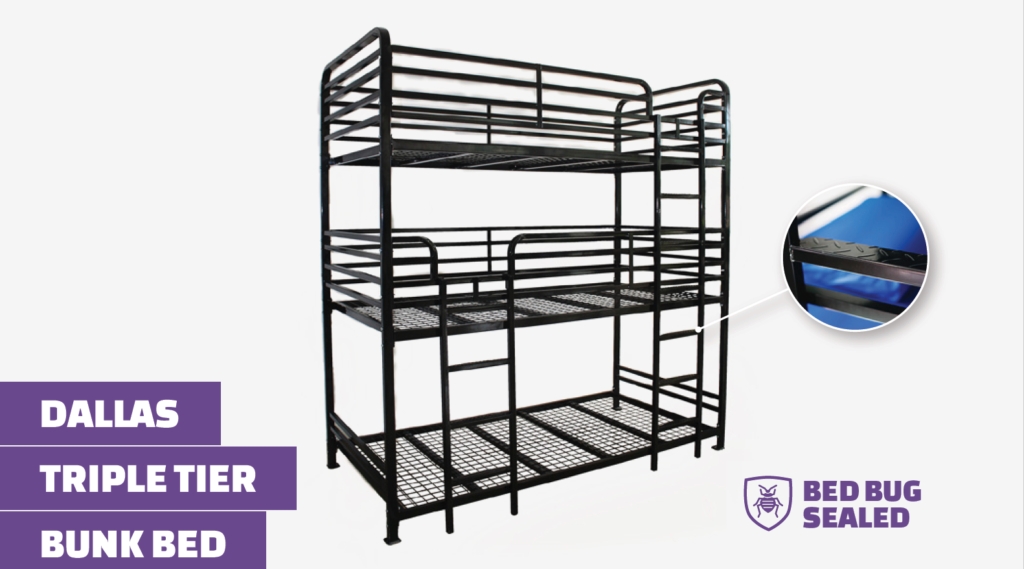 Features of ESS's Heavy Duty Triple Bunk Bed for Adults
The Dallas Triple Bunk Bed offers a combination of strength and comfort that's rare among multi-sleeper options. Designed to provide years of durable rest, it's an affordable and effective solution for hostels, campgrounds, dorms, or any other environment catering to several adult guests (or kids).
Our triple bunk bed is specially designed as the perfect accommodation for high-traffic sleeping rooms. ESS's main goals were to build a long-lasting multiple bed that stands up to normal use and prevents the annoyance of bedbug infestation. The Dallas Triple Bunk Bed checks all those boxes and more.
ESS's bunk beds for 3 adults includes several key features:
Strong and sturdy metal frame construction.
87 inches of length in each bunk from head to foot, and 36 or 39 inches of mattress width.
Frame support from industrial-strength, metal-mesh panels without springs.
Metal tube frames fused on four sides to resist moisture and bedbugs.
High-density, hypoallergenic foam mattresses for supreme comfort and bedbug resistance.
Two ladders for top bunks, allowing for easy access and superior weight transfer that resists tipping.
Compliance with anti-entrapment standards in both the US and UK.
Removable mattress covers for easy cleaning.
Up to 400 pounds of weight support on each tier.
Easy and quick assembly in as little as 2o minutes.
Custom size and color options.
A comprehensive, 3-year structural warranty.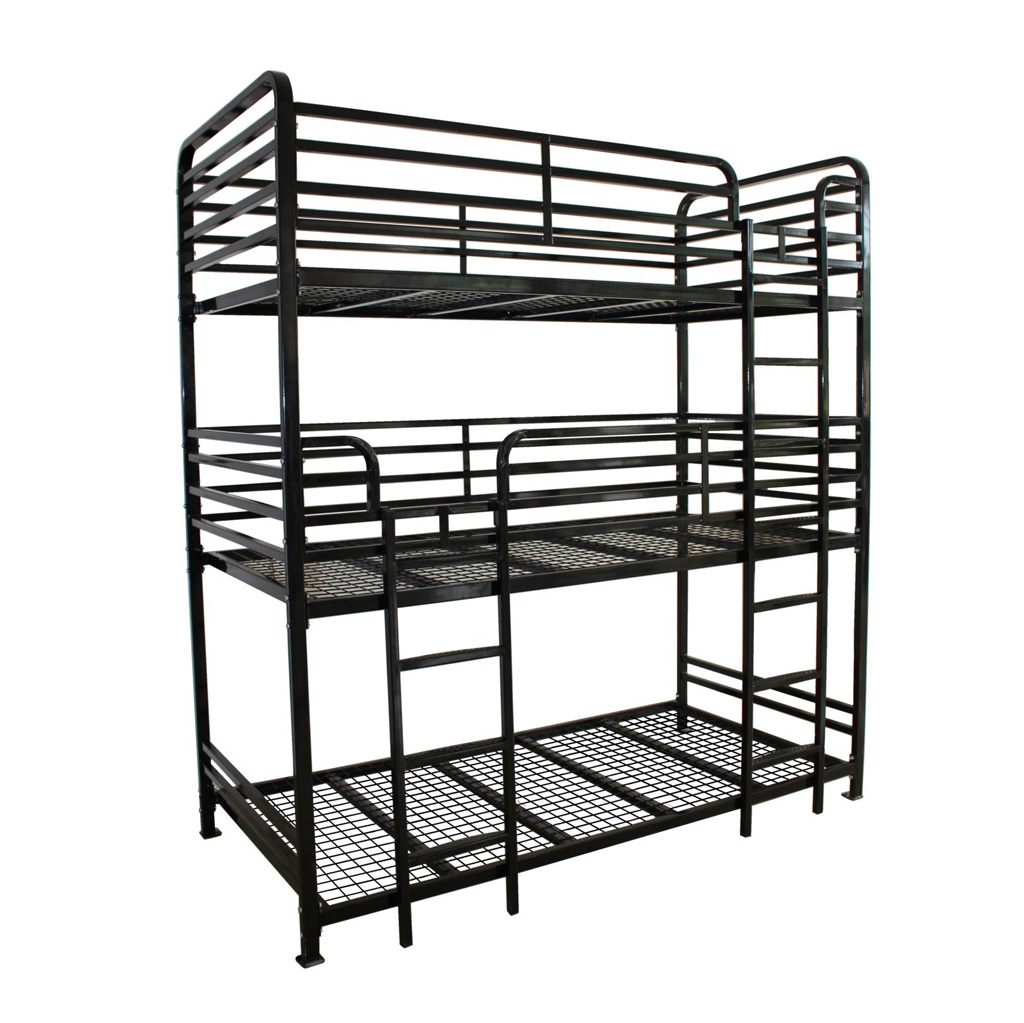 Benefits of ESS's Bunk Beds for 3 Adults
The Dallas Triple Bunk is a versatile, dependable answer for businesses and establishments that provide high-volume, high-traffic overnight accommodations. Its benefits include:
Better use of useable space. With three separate mattress tiers, the Dallas bed takes great advantage of a room's vertical space, rather than using additional square footage on the floor.
Higher capacity. Triple bunk beds improve your occupancy rate by 50% over standard double bunks.
Money savings. By spending less on triple bunk beds instead of more double units, you can create higher occupancies for a fraction of the price.
More sleeping room without sharing. Single guests in hostels, campsites, or other establishments get their individual space to sleep. There's no need for awkward sleeping arrangements in the same bed.
Superior comfort. Our high-density foam mattresses and metal mesh frame panels make the Dallas bed more comfortable, without noisy, squeaky springs.
Extra-durable design and construction materials. Dallas bunks are built to last over the long haul. Strong metal frame construction and reinforced support features help keep them useable for years.
Advanced protection against bedbugs and pests. Its frame's moisture resistance and the waterproof foam mattresses help the Dallas bunk prevent infestation from bedbugs and other insects.
Security and accident prevention. High guard rails on the top two levels, ladders that support weight without tipping over, and strong metal construction make the Dallas bunk stronger and safer.
Easier assembly and maintenance. Putting the Dallas bunk together takes as little as 20 minutes. The mattress cover is easy to remove and wash.
Whether your hostel needs more sleeping units, your campground needs more guests, or you just have three kids and limited floor space, the Dallas triple bunk bed is a practical solution for a reasonable price.

---
ESS Universal manufactures and supplies high-quality, cost-effective commercial grade beds, mattresses, and furniture to camps, hostels, shelters, dorms and more. View our entire line of furniture products including our popular waterproof foam mattress for institutional use, single metal bed frames, single over single bunk beds, single over double bunk beds, and triple bunk beds. Download our catalog for detailed information on our complete product line.