True hostel bunk beds are no exception when In this day and age there is almost an endless choice of furniture from a seemingly endless supply of shops selling furniture; it really has become a buyers Mecca!
So who would want a hostel bunk bed and why?
Businesses who offer budget accommodation require strength from the beds that they install
Employee accommodation needs in many industries require specifications to ensure longevity as well as employee safety
Even not for profit organisations such as the YMCA need something pretty special other than you can get in your corner shop
Why not just pop down your local shop for a hostel bunk bed?
With all due respect to such shops as IKEA and giant furniture outlets, the bunk beds are simply not designed to be commercial bunk beds; the category of furniture found in such places as IKEA are considered to be domestic with almost all 'supposed' hostel bunk beds being children's sizes and only designed for the weight of children.
So how does one find a true hostel bunk bed?
To date there are no known commercial high street outlets that supply true hostel bunk beds, this was recently in the world spotlight when the refugee bunk bed crisis blew out of proportion  in Europe, this phenomenon or exodus from Syria took Europe by complete surprise and emptied such furniture outlets as ESS Sleep System and IKEA. In reality a situation such as the refugee crisis would need any kind of bed whether it be domestic or commercial but given time and opportunity; such organisations as the Red Cross or UNICEF would have chosen true hostel bunk beds.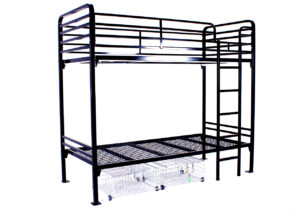 Stability, seam welding, metal wall thickness are just some of the big benefits from commercial hostel bunk beds and if you truly love the environment we have some good news for you 'Wood Is No Good'
Wood is a natural, breathing material which expands and retracts with climate change, this causes joints the swell and retract causing premature wear. Wood is warm, bed bugs like warm!
So above are a few points that might enlighten you on how to identify real hostel bunk beds.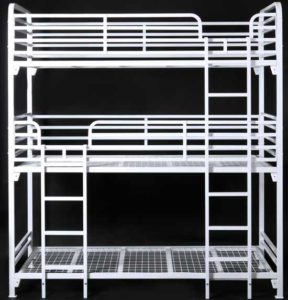 Triple Tier Dallas Hostel Bunk Bed