We recently returned home from our two-day trade show in Nashville, TN.  What a great experience it was for ESS Universal ! We at www.heavydutybunkbeds.com met hundreds of Camp Directors [ & staff ] across the United States.  Not only were we able to display [ & show off ] our Adult Bunk Beds, but we were able to develop relationships from Alaska down to Florida.  It is great to see [ & hear ] the stories of camps thriving, and children [ & adults ] experiencing the great outdoors !  It was fun to be able to discuss our Heavy Duty Bunk Beds directly with the decision makers of these organizations.
Something to note:  It appears camps are beginning to lean away from wooden bunk beds, and more towards a metal bunk bed frame.  The issue of Bed Bugs has been the main reason for this.  Bed bugs prefer the warmth of the wood that they can physically burrow into, verses the metal frame that stays noticeably more cool.  We used this as the perfect opportunity to promote our Bed Bug Free Design.  We also heard more, and more stories about mattress issues.  The good news is, you can purchase mattresses pretty much anywhere, but the quality you are finding is limited.  Here at ESS we were proud to showcase our Waterproof Foam Core Mattress, with the polyurethane, machine-washable cover.  Even the competitors agreed it is a great product.
Camp Trends:
$18 billion dollar industry
More than 14,000 day and resident camps exist in the U.S. 8,400 are resident (overnight) and 5,600 are day camps.
Each year more than 14 million children and adults attend camp in the U.S.
Nonprofit groups including youth agencies and religious organizations operate approximately 11,000 camps, and 2,500 are privately owned independent for-profit operators.
In the past 10 years, there has been an increase in the use of international staff to expose campers to different cultures. Nearly 20% of staff are from other countries.
Thank you to all the great folks we were able to meet last week in Nashville, TN & the great members of the Christian Camp and Conference Association.  We cannot wait to serve you today, tomorrow, and beyond !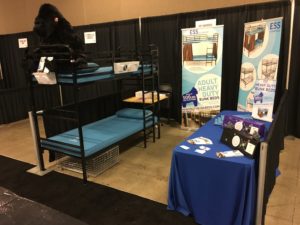 Trade Show:  CCCA | Nashville, TN