For camps, hostels, shelters, and more, flexibility with sleeping quarters is a must. One of the easiest ways to maximize space in a room or area is with bunk beds. However, bunk beds are not the perfect furniture for every room. Sometimes, if a room is large, then single beds are better. No matter what the situation calls for, the Missouri detachable bunk bed from ESS can solve it. These stable pieces of furniture can stack up or be pulled apart to meet the needs of any communal sleep space.
Detachable Bunk Beds Explained
Bunk beds are one of the most popular options for camps, hostels, shelters, and dorms. By using bunk beds, you can double the number of people in a room or area. However, there are several instances and situations where it can also be beneficial to have single beds.
Detachable bunk beds can be used as either separate single beds or stacked bunk beds. This flexibility affords you many options for the design or arrangement of your sleeping space.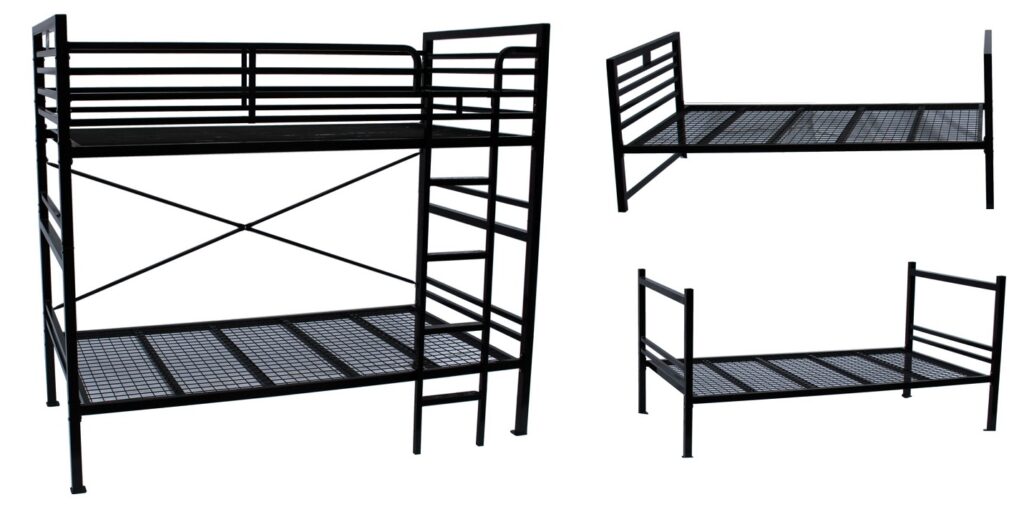 The Benefits of Detachable Bunk Beds
Detachable bunk beds provide a camp, hostel, shelter, dorm, and other similar places with numerous benefits. These benefits include:
Flexibility
With detachable bunk beds, living arrangements are adaptable. You can keep the beds as a unit and fit more sleepers in a room, or you can detach the beds to create more comfortable, private spots for fewer sleepers.
Stylish Look
The Missouri detachable bed from ESS is sleek and stylish. It features clean lines and square ends, giving it an attractive modern look.
Sturdy Metal Frame Construction
The metal frame of the Missouri unit is stylish, but more importantly, it is sturdy. Stacked or separated, each bed is rated to hold up to 600 pounds safely. The extra rails in the head and footboard help to strengthen the overall frame and ensure it holds up no matter what.
Robust Design
Each Missouri detachable bunk bed platform is supported with six cross members and a foundation of heavy-duty wire mesh. It is specifically manufactured to keep strong and avoid squeaking sounds in order to prevent accidents and poor sleep.
Bed Bug Resistant
Bed bugs have become much more prevalent in the United States. Highly populated rooms, like those in hostels, are the perfect places for these insects to spread. The Missouri detachable bunk beds are bed-bug-resistant. Each metal tube is welded together to seal the frame. Without an opening, there is no place for bed bugs to create a nest. Add some ESS waterproof foam mattresses, and there will be no place for them to hide.
ESS' detachable bunk beds are the perfect solution for communal sleep facilities. They allow you to remain flexible with the bed setup, stay strong under pressure, and resist bed bugs and other insect infestations.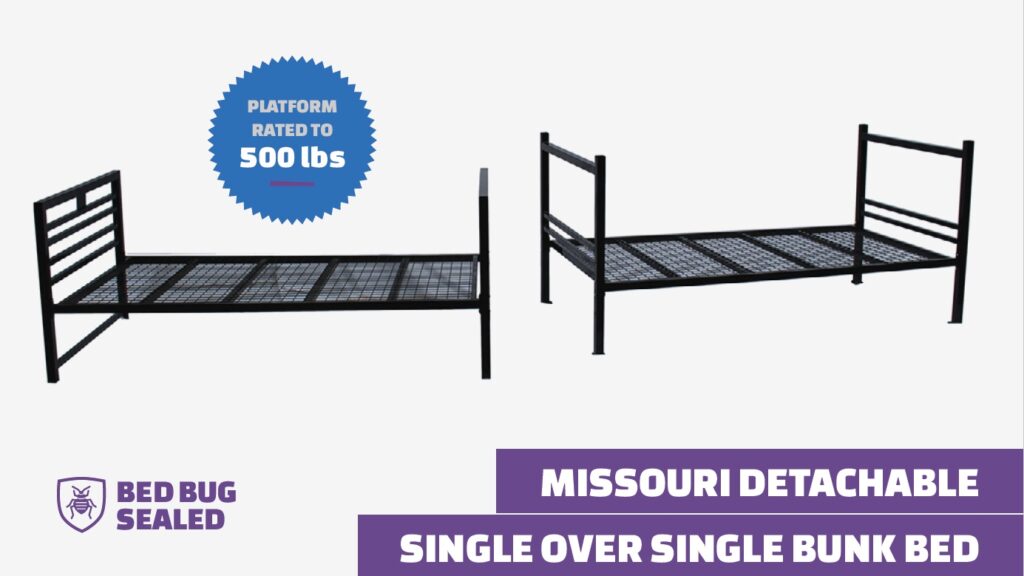 Save Space with Detachable Bunk Beds
No matter what a space needs on a particular night, week, or month, the detachable bunk beds from ESS can meet your needs. Whether it's a camp, hostel, shelter, dorm, or something else, detachable bunk beds will keep sleepers safe and comfortable and ultimately hold up over time.

ESS Universal manufactures and supplies high-quality, cost-effective commercial grade beds, mattresses, and furniture to camps, hostels, shelters, dorms and more. View our entire line of furniture products including our popular waterproof foam mattress for institutional use, single metal bed frames, single over single bunk beds, single over double bunk beds, and triple bunk beds. Download our catalog for detailed information on our complete product line.