Detachable bunk beds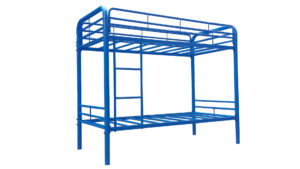 detachable bunk beds are an adventure just waiting to be explored. To a child, a bunk bed is not just a place for sleeping, but a place for make believe, playing, and climbing. Detachable bunk beds can become a den, a truck or change just as quickly into a castle! A Child's playful mind knows no boundaries and although rare, this playful pastime can lead to accidents and although we do not like to think of it; even death. Using any bed as a trampoline usually ends in tears, with a bunk bed it can be even worse! Here are a few tips To keep your kids as safe and make sure your detachable bunk bed meets the following safety standards.
Detachable bunk bed safety Tips
**********************************************
 Never allow a child under the age of 6 to occupy the top platform of any bunk bed!

Always choose the right mattress, a way to prevent accidents is to make sure the mattress on your child's bunk bed is the right depth. If the detachable bunk beds safety side rail is too low then a child could roll over the safety rail and topple out, the entrapment hazard law requires a minimum of 5 inches from top of the mattress surface to the top of the safety rail. In the past, the governments of the G16 countries have made bunk bed rules voluntary but realise there are still manufacturers out there that do not design bunk beds to meet these rules.

Position a fully assembled detachable bunk beds firmly against a wall, bunk beds need to need to be tigh against a wall to stop the sleeper from becoming trapped between the detachable bunk bed and the wall. Entrapment hazard design rules state that a bunk bed shall not be any more than 70mm away from a wall when positioned near a wall. Positioning a bunk bed against a wall adds stability so this is good advice

Always try to use a bunk bed that has sloping top edges in its design, similar to the image of the detachable bunk beds above from ESS Sleep Systems, this prevents clothing from being snagged when the sleeper dismounts the top platform. Having posts with ornate features are especially dangerous as children tend to hang things on them such as ties, bags and items that could actually cause strangulation. It is a fact that on average 12 children die per year due to bunk bed accidents

Loft and bunk beds need not be dangerous; they are a great saving idea which date back to ancient Greece and the Roman Empire and will be here for a lot longer, Explain to your children that although bunk beds are fun they need to be very careful, listening to your advice there will be fewer accidents. Just like a motor car, a detachable bunk beds needs maintenance at regular intervals. Ensure all fixing bolts are kept tight, a loose joint equals early wear, but if you follow these children's bunk beds safety tips, your kids can continue to play in their happy little world of make-believe.