The world's firefighters have taken center stage in recent years. As first responders to a neighborhood fire, civil unrest or even a terrorist attack, these guardians of public safety are more valued and appreciated than ever. And more municipalities are making investments in facilities and equipment to support them, including better organized and more comfortable dormitory arrangements.
We believe that first responders deserve quality accommodations, and that government subdivisions deserve to get value for the taxpayer dollar. That's why we're proud to offer our well-constructed beds to fire stations.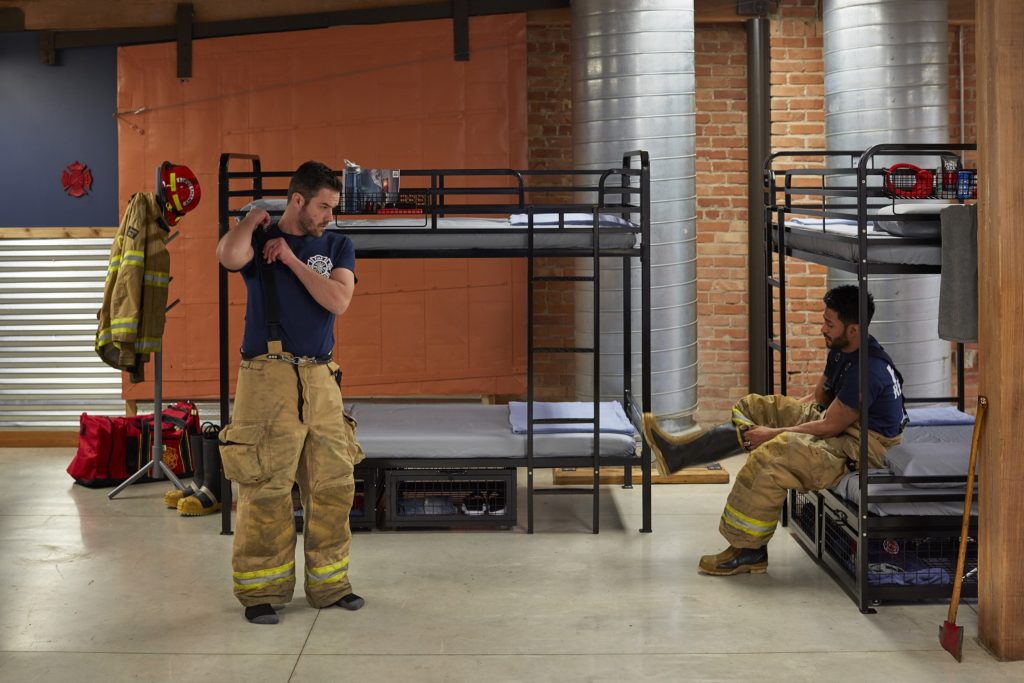 As manufacturers and suppliers of quality commercial furnishings for the last decade, ESS Universal provides products that deliver on the quality and durability requirements for beds used in fire station living quarters.
Rugged fabrication. Whether in single or bunk configurations, our bed frames are welded, all-metal construction. They're sturdy enough to stand up to the weights and stresses imposed by the rough and tough life of a busy firehouse. Each bed platform supports 500 pounds, and because the frames are all metal, they're bed bug resistant.
Quality mattress. Nothing contributes more to a good night's sleep than a supportive mattress. Ours are made of high-density foam that cradles the body for uninterrupted rest, with an easily cleaned, waterproof and bedbug-resistant cover. Comfort: it's what your people are waiting for after periods of stress and physical exertion.
Useful accessories. Keeping your fire station living quarters orderly is important. All-metal accessories get the job done. Our under-bed storage locker is the perfect out-of-the-way place for stowing bedding or personal gear; simply add a padlock for increased security. And our easily mounted bunk bed basket organizes toiletries and other personal items handily, complete with a bath towel rack. Goodbye clutter.
Easy assembly. Your guys can put our bunks together in as little as 20 minutes using our straightforward instructions and some simple tools. If you have a power drill, it's even easier.
Optimal space usage. If your current living quarters are getting a bit cramped, you'll appreciate the space savings offered by ESS Universal bed products. Our models come in single, double and triple-bunk configurations, all with standard-sized bed platforms, but with a low-bulk profile that yields the smallest possible footprint. With some planning, you might be surprised at the number of personnel you can house comfortably in your existing facilities.
Volume pricing. We're able to offer an even more attractive deal if you're buying multiple units, so large projects can be cost-effective.
Reliable warranty. ESS Universal stands behind its products. We cover all of our goods for manufacturer defects, and offer a three-year structural warranty on our bed frames.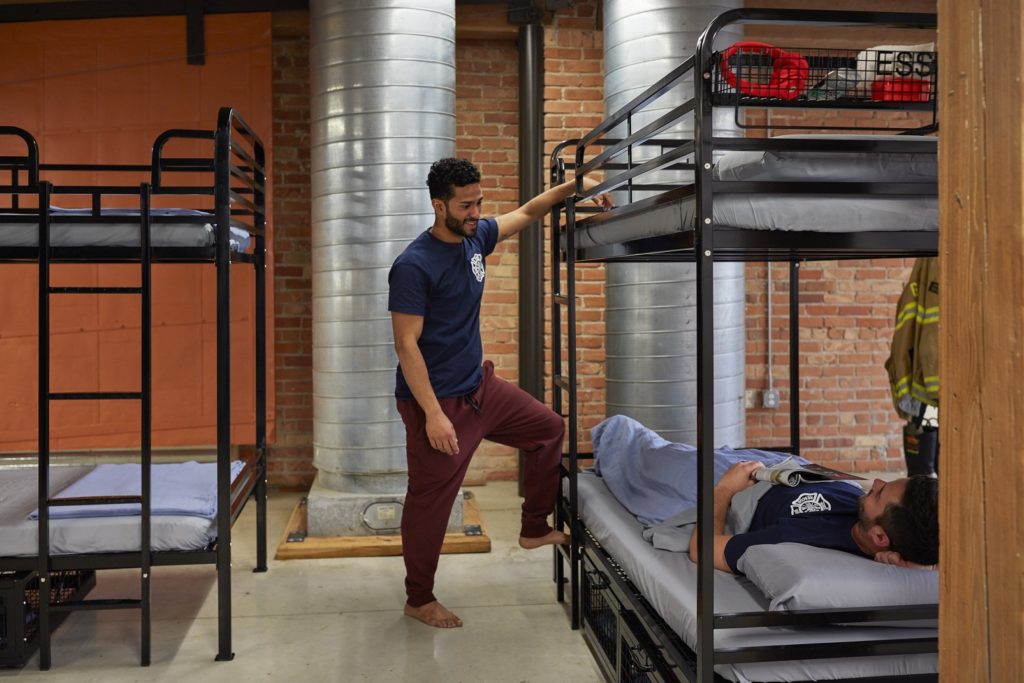 The Solid Choice for Fire Station Living Quarters
Beds from ESS Universal are designed to hold up under heavy commercial use, and that describes the demands of housing personnel in a local fire department. We're confident that the fire station beds you purchase from our company will offer superior performance and be in service for years to come.

---
ESS Universal manufactures and supplies high-quality, cost-effective commercial grade beds, mattresses, and furniture to camps, hostels, shelters, dorms and more. View our entire line of furniture products including our popular waterproof foam mattress for institutional use, single metal bed frames, single over single bunk beds, single over double bunk beds, and triple bunk beds. Download our catalog for detailed information on our complete product line.