German refugee bunk beds from ESS Sleep Systems – Bunk beds are being donated by many individuals but most are coming from furniture companies located in Europe, these companies are supplying much needed bunk beds to keep families off the floor until appropriate housing can be sought. Extracts from headlines show the dire situation in Europe today
MUNICH — German officials are buying so many bunk beds for refugees that shops are often exhausted and restocking shops is becoming more and more difficult.
Most larger department stores just can't keep up with the massive demand," said Christoph Hillenbrand, senior administrator of the Upper Bavaria district around Munich, referring to the furniture chain store from Sweden.
ESS Sleep Systems are planning to tackle this huge problem, in the coming months ESS will launch it's 'Bunk beds for German refugees' campaign, this campaign will aim to supply bunk bed sets for $203 delivered to a German port or in fact any port in the world where our bunk bed set is required.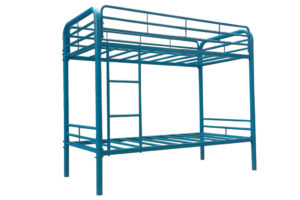 This fully detachable bunk bed splits into two single beds and is best suited for the domestic market; however our T2 is also favoured by charities for its design in safety and very low price tag. Supplying CIF (delivered to port only) ESS Sleep Systems can miraculously do this for $203! That is:
1 detachable bunk bed (splits into 2 single beds)
2 budget mattresses that meet British standards fire retardant regulations
2 budget pillows
Shipping any port in the world CIF
German refugee bunk beds are in high demand for obvious reasons, however ESS Sleep Systems are coming to the rescue with this amazing full size adult bunk bed!
To meet this very low price German refugee bunk bed we had an incredible task ahead of us, not only did we have to meet this low price but when we manufacture it must meet the strict entrapment hazard safety standards set out quite rightly by the UK, USA and Europe; we are very proud to say with the budget mattresses and budget pillows we achieved that price!