Small spaces have their share of charm and also their share of problems. In fact, "share" is really the operative word as you figure out how to share limited space with other human beings.
Finding room for all your personal belongings without feeling like you live in a storage closet is definitely a challenge. Whether you're setting up for a long stay at the dorm or a few weeks at camp, personal comfort and organization are a top priority.
A hook-on bunk bed shelf creates a convenient place for personal items, books, and other must-have belongings.
Best Hook On Bunk Bed Shelf Features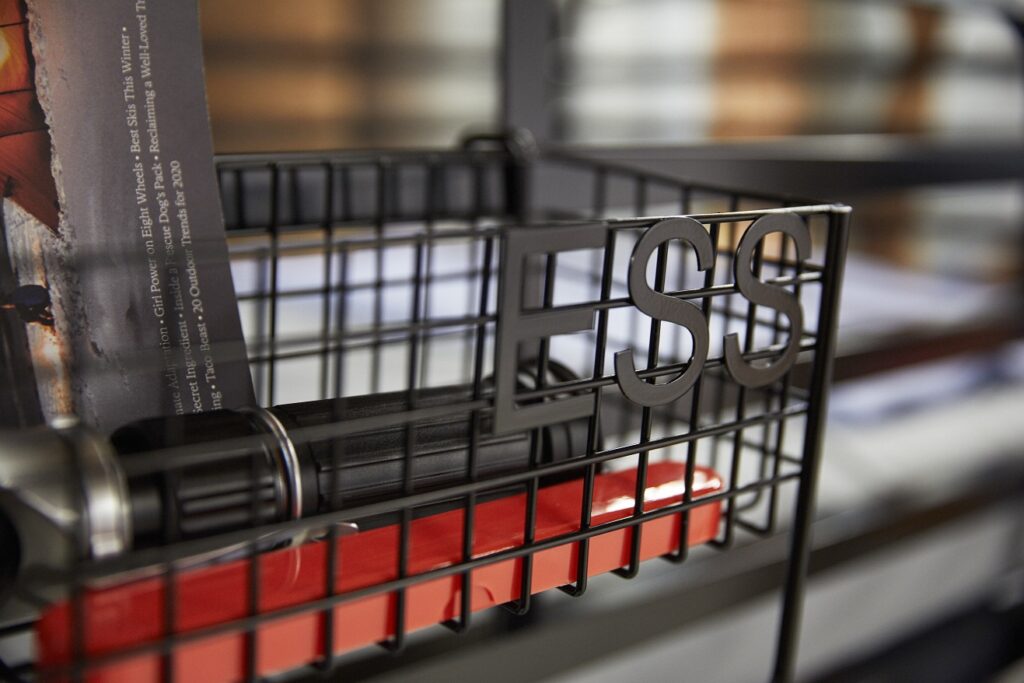 A shelving unit should make dorm living a little easier, not complicate it. The ESS bunk bed shelf is ideal for keeping wet towels off the floor and personal items nearby. The easy-to-use features of the ESS bunk bed basket include:
No Assembly Required
The ESS bunk shelf comes ready to use; no tools are necessary for assembly.
Universal Fit
Two to eight baskets will fit on your bunk bed, depending on which type you have. A total of four baskets fit on the single-over-single Dallas bunk bed (two up, two down). And a total of eight baskets can be used on the Dallas triple bunk bed.  That's a lot of storage!
But even better, ESS bunk bed shelves are designed to fit on any type of bunk bed.
Strength And Durability
Every ESS hook on bunk shelf is made from strong 6mm wire frame and 4mm mesh. Not only are they durable, but at 445mm high, 350mm long, and 145mm wide, they are also incredibly spacious.
Versatility
The added wire towel rack on an ESS bunk basket is perfect for keeping wet towels off the floor. But don't limit yourself! Use it for a little extra hanger space, an emergency clothes drying rack, or a place to stash scarves, bags, or belts. The shelf unit can be hung on the side or the end of the bed, wherever you need the extra storage the most.
What Can You Store in an ESS Hook-On Bunk Bed Shelf?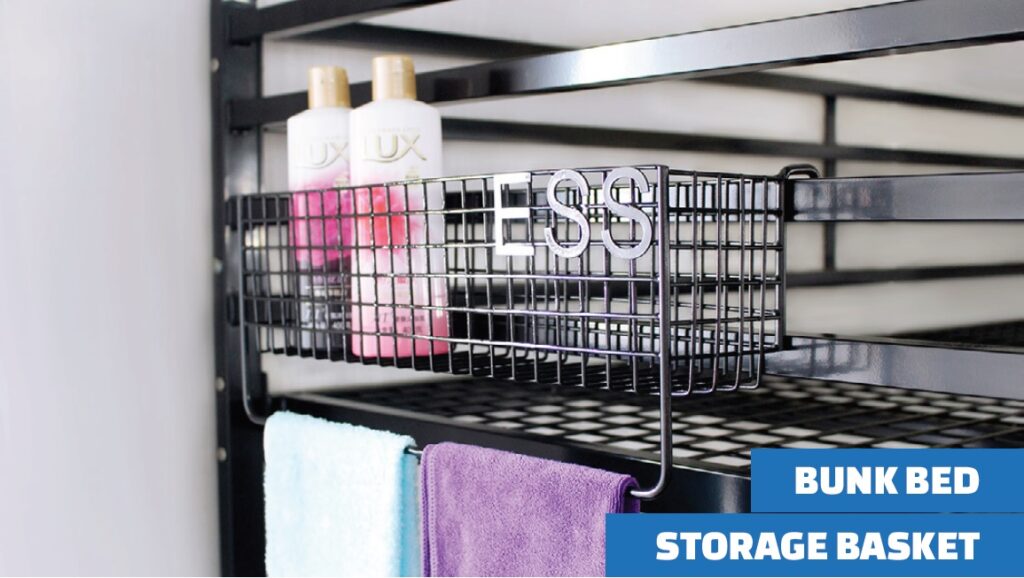 Thanks to the sturdy construction and large capacity, the uses of a bunk shelf are almost endless.
Need a place to stash your snacks and some water bottles while you're streaming in bed? A bunk bed basket holds everything you need and more.
Use a bunk bed basket to keep towels and all of your shower supplies together in one place.
Think of a bunk shelf as your mini library. Use it to keep your eReader off the floor at night. Or if you're old school, use it to stash a few books and even a clip-on reading light.
ESS bunk bed shelves are also decorative. Dorm rooms and camp cabins rarely have space for a little personal décor. You can fill your hook-on shelf with plants, framed photos, or other personal items just for fun.
Bunk bed baskets are a smart and practical solution for any room where a little extra space is necessary. And even if storage space isn't a problem, an ESS bunk bed shelf can finally give the person on the top bunk their own nightstand. What could be more convenient than that?

ESS Universal manufactures and supplies high-quality, cost-effective commercial grade beds, mattresses, and furniture to camps, hostels, shelters, dorms and more. View our entire line of furniture products including our popular waterproof foam mattress for institutional use, single metal bed frames, single over single bunk beds, single over double bunk beds, and triple bunk beds. Download our catalog for detailed information on our complete product line.