Heavy duty bunk beds being used in a domestic market
As the kids bedroom becomes more and more tech parents are given many options where heavy duty bunk beds are concerned. Many companies around the globe offer these so called Heavy duty bunk beds but let us look at what some companies call their heavy duty bunk beds range and what is described as bunk beds designed for a domestic market.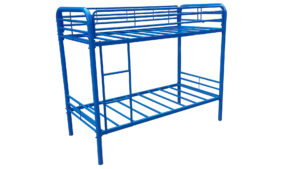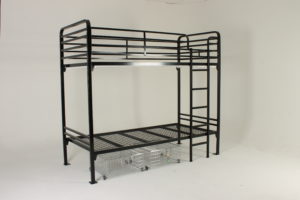 Identifying the difference heavy duty bunk beds and domestic
The first obvious sign is the appearance of a domestic bunk bed versus a true heavy duty bunk bed, there are few ways to ensure you are really getting heavy duty bunk beds, question your supplier, some of the answers should be:
Assembled weight should be in the 70 kilo range as above Dallas heavy duty bunk bed image
Welding of components should be seam welding
Sleeping platform weight rate should be at least 250 kilos with the above Dallas being 500 kilos rated
Is the model you are inquiring about being used in a reputable organisation such as a hostel bunk bed in a backpackers hostel
is the paintwork a commercial powder coat such as Polyester Epoxy Powder Coating
These attributes should also apply to other heavy duty bunk beds models such as triple sleeper bunk bed or triple tier bunk bed as below image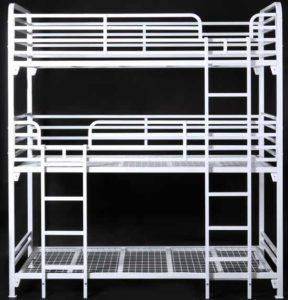 Safety in design
Very often with a true heavy duty bunk bed it will be designed and manufactured to United Nations safety standards; this includes entrapment hazards and strength of components. The design says every components should not be able to be removed without a tool, that for a heavy duty bunk bed design should be safe from snagging of clothing when dismounting to avoid strangulation
For the safety of our children Equipment Supply Solutions advises to choose your bunk beds wisely!