There is a big issue when it comes to combining strength with looks, most summer camps in USA and Canada want wooden bunk beds to compliment the cabin looks. ESS has developed the Dallas range heavy duty bunk beds timber look.
The Dallas range of bunk beds are designed to last, an all steel construction that can take the knock! However, ESS has 'Beautified' the Dallas range by cleverly adding timber trims to the bunk bed ends. This accessory addition gives a strong contrast between strong metal and timber.
Strength and looks heavy duty bunk beds timber look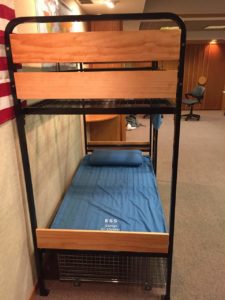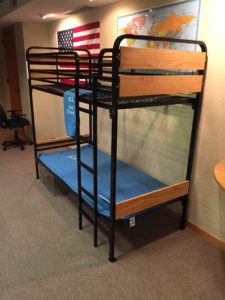 Bed bug proof – The Dallas range of adult bunk beds, first line of Defense!
The ESS Heavy duty bunk beds timber look is completely bed bug proof! in its construction there is not one hole that insects can make a warm nest even though we have combined wooden trims with black metal. Combined with our famous hostel mattress you are assured of a fabulous combination to fight the dreaded bed bug problem. The Equipment Supply Solutions USA Heavy duty bunk beds timber look can be seen at an upcoming camp conference in Chicago, visit the ESS USA team at this fabulous event where you can see the amazing Dallas bunk bed set up for yourself. Everyone is welcome to put the Dallas through it's paces, you will see why we say The Dallas Is The Strongest Hostel Bunk Bed In Its Range!
Choosing right the first time!
whether you choose our heavy duty bunk beds timber look or our Dallas military bunk beds black metal jacket look you will not go wrong! Many satisfied and thankful customers are using Equipment Supply Solutions Dallas range from Lyon France to Los Angeles, From London to Denmark, from Toronto to Mississippi.
A typical ESS USA Dallas setup at Green Valley Christian Camp California
The perfect choice for you!