If you manage a high-occupancy facility such as a homeless shelter, college dorm, hostel or summer camp; bunk beds are an excellent choice and widely used to accommodate large numbers of people. Indeed, using bunk beds can double or even triple the occupancy potential of a single room. Even better, today's iterations of bunk beds include the latest related technology including industrial strength tubing, long-lasting finishes, an array of shapes and sizes, and invaluable features like built-in storage lockers.
Consider the options
The ESS Dallas Single Over Single is the toughest adult bunk bed out there, used around the world in the above settings as well as shelters, employee housing, fire departments, and law enforcement. These beds are built with reinforced steel linked with no less than four cross members and further strengthened with mesh panels. Not only does this model easily support 500 pounds with an 80-inch length; the frame is made without springs so guests get a squeak-free night's sleep. The sturdy metal tubes are also welded on all sides to keep bed bugs at bay.
Safety also comes standard with ESS bunk beds, as all models include guard rails from head to foot boards (which also adds additional stability) as well as integrated, non-slip ladders with a design that extends to the floor for more efficient weight transfer. [Also see: Are Bunk Beds Safe for Adults?]
Features Aplenty
You have dozens of available options when shopping for bunk beds to match your needs, but ESS products are built on a foundation of durability, longevity, and visual appearance that is unmatched in the marketplace. And that's not all—ESS beds are available with attractive and useful features as well. Check out or collection of heavy duty metal bunk beds–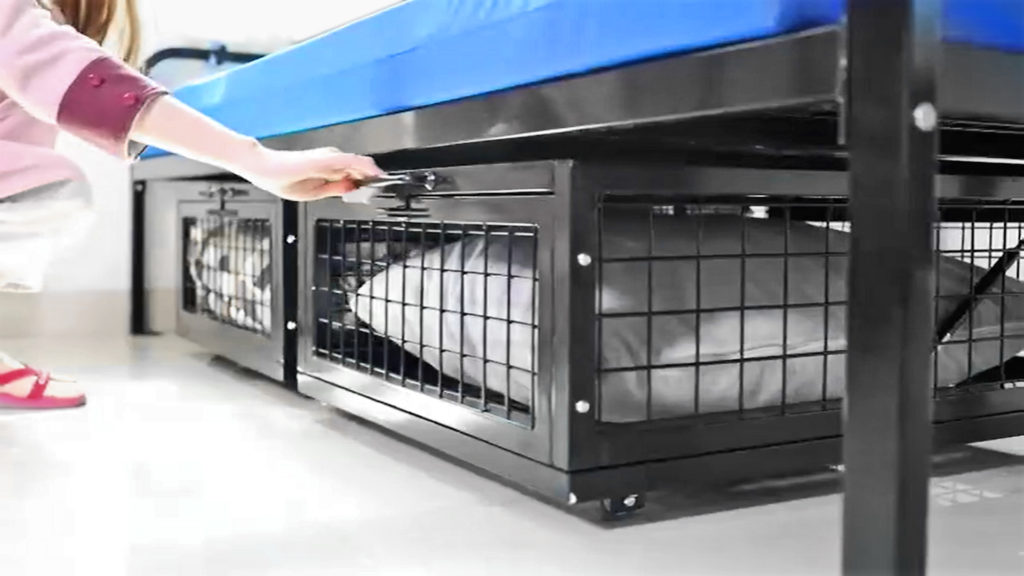 Arguably the most sought-after feature for facility hosts and guest alike, under-bed storage lockers are the veritable magic wand for keeping things organized. Luggage, clothing, shoes, and all manner of personal items can quickly turn a room messy. Lockers offer a central location to store gear and provide a means to securely do so.
Best of all, no tools are required. The storage locker slides on wheels under the bed and it's ready to use. The basket opens and closes easily with the help of pneumatic arm, and the handle offers ample room to add a padlock for extra security.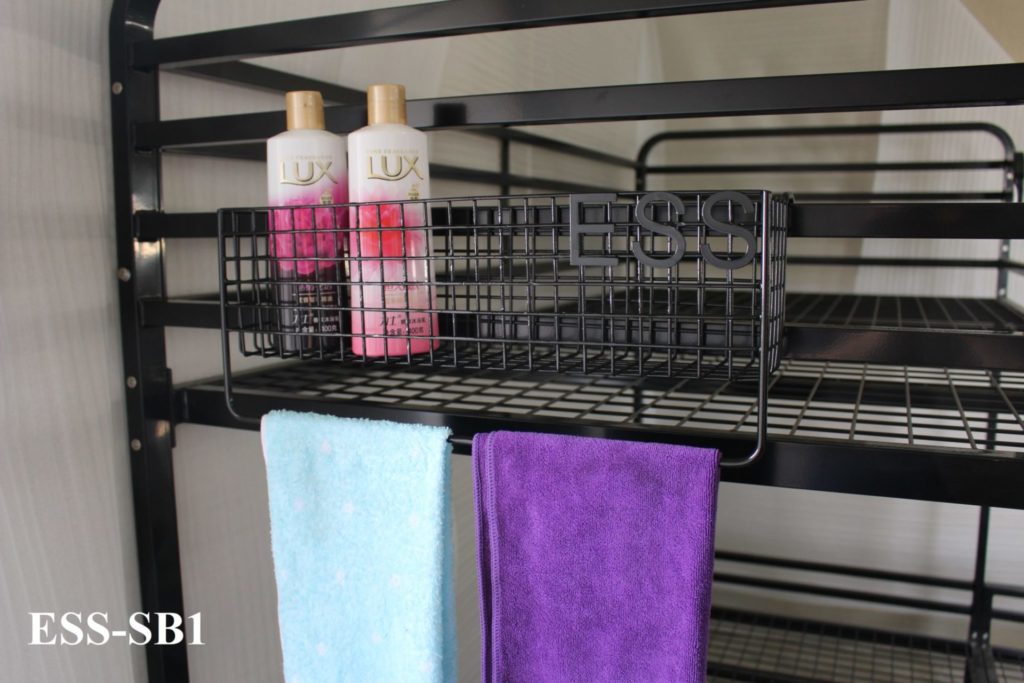 In high-occupancy settings it is challenging at best to maintain an organized space, what with so many people of varying hygiene and other daily habits. Damp towels, scattered clothing, a bar of soap here and hair brush there; it's easy for a room to rapidly devolve into chaos. But the Dallas bunk bed offers a wire mesh bunk bed basket that conveniently attaches to either side of the bed to help return tidiness to the space. The bed accommodates two baskets on either end of the double bed, and up to four on the triple-tier bed.
All ESS beds meet the most stringent of safety standards for peace of mind and a peaceful night's sleep. Our beds' innovative design also means quick and easy assembly in less than 20 minutes.
---
ESS Universal manufactures and supplies high-quality, cost-effective commercial grade beds, mattresses, and furniture to camps, hostels, shelters, dorms and more. View our entire line of furniture products including our popular waterproof foam mattress for institutional use, single metal bed frames, single over single bunk beds, single over double bunk beds, and triple bunk beds. Download our catalog for detailed information on our complete product line.