Heavy duty metal bunk bed frames can be used in many different settings, including: fire stations, schools, homeless shelters, hostels, camp barracks, and other institutional settings. Moreover, industrial strength bunk beds are strong enough to hold any size person from a child to a full-grown adult.
However, you might wonder what makes ESS Universal's heavy-duty metal bunk bed frames unique. Read on for an overview of features that make our bunk bed frames gorilla strong and bed bug smart.
Strong Square Steel Tubing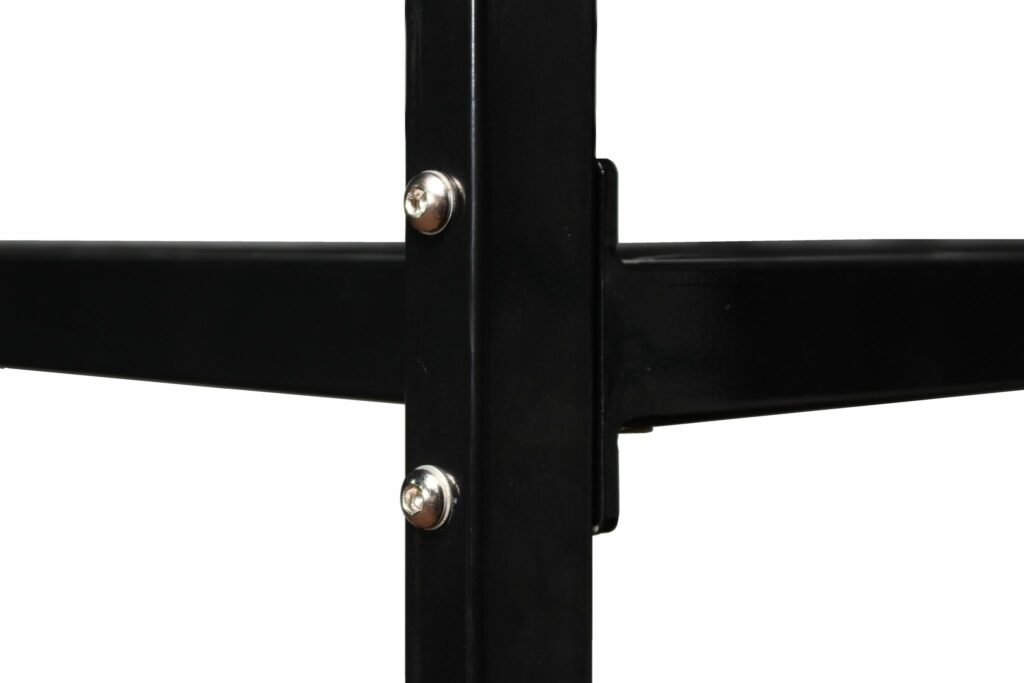 The materials contribute many of the features of our heavy-duty metal bunk bed frames. ESS Universal's bunk bed frames are made from square steel tubing that is formed into the various parts that make up the bed frame. The square tubing is welded to form the bed frame and the welded bed frame is attached to the headboard and footboard.
The greatest benefit of square steel tubing is its strength. Steel is stronger than aluminum, wood, or plastic. Specifically, steel provides greater resistance to bending and twisting and are less prone to breaking than these other materials.
Moreover, some strength comes from the square shape of the tubing. Square tubing is stronger than straps or angle iron, particular when it comes to bending forces. As a result, each of our heavy duty bunk bed platforms can support up to 500 pounds of weight.
Smart Construction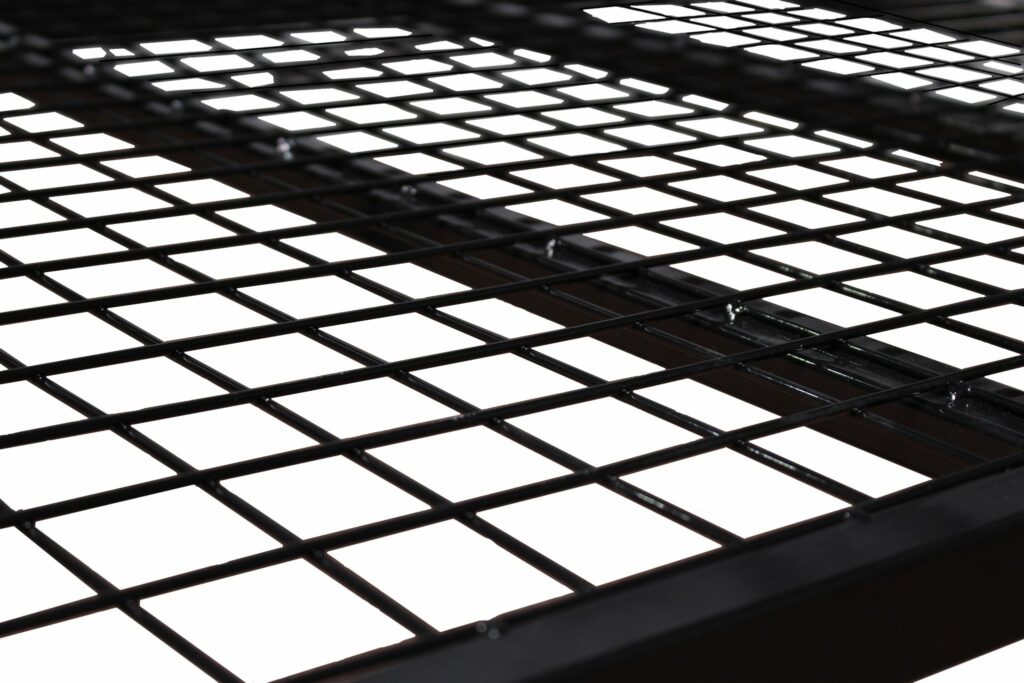 The way that the materials are assembled also contributes to the strength of heavy-duty frames. Bed frames are easier to fabricate from square tubing than from other shapes, like round tubing. Square tubing is easier to bend than round tubing because square tubing can be held while bending while round tubing has a tendency to roll when being bent. This results in a stronger shape because rectangles with square corners tend to resist twisting and bending.
Moreover, square tubing is easier to weld than round tubing because a straight seam is easier to weld than a curved seam. Thus, the welded seams will be straight and square, which imparts strength at the weakest point of the frame.
By contrast, wood and plastic cannot be welded and aluminum is very difficult to weld. As a result, these materials produce weaker joints than steel tubing.
Heavy Duty Design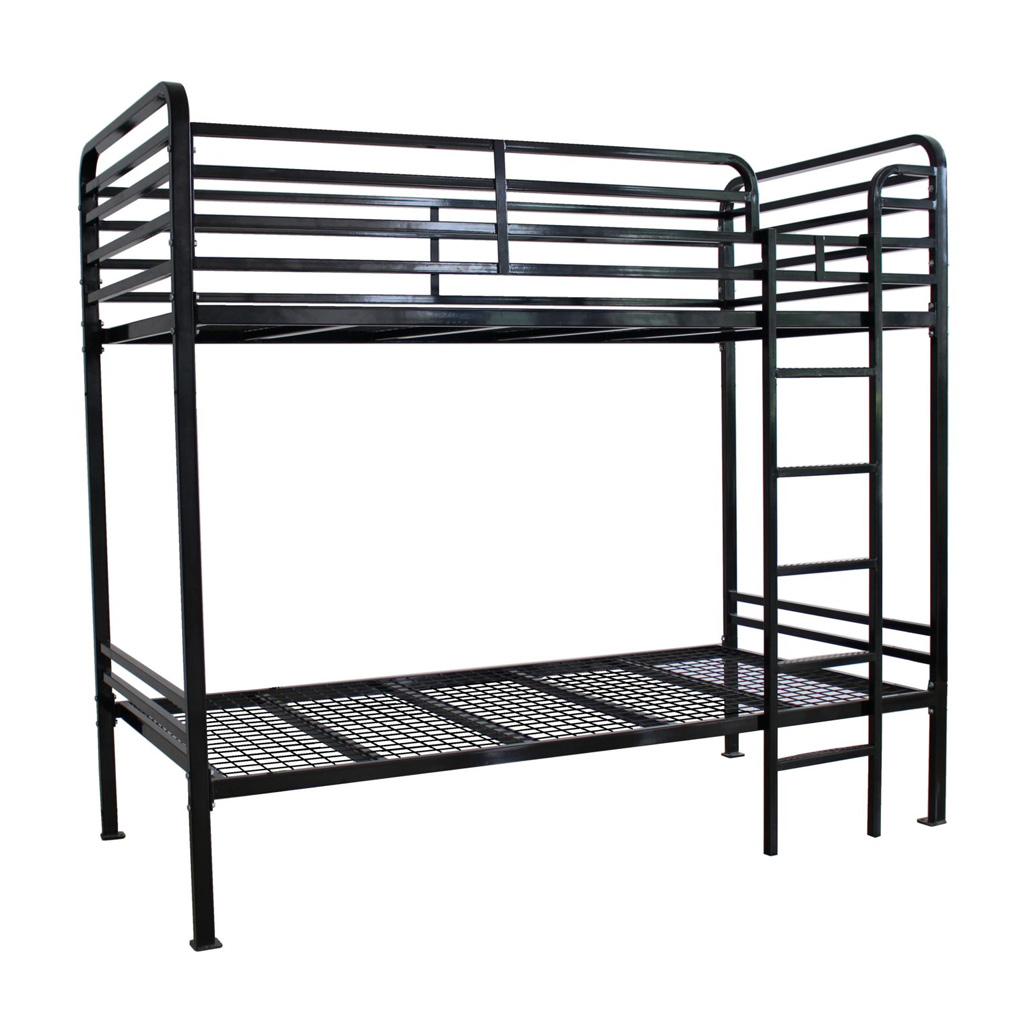 Heavy duty bunk bed frames are designed with strength in mind. As a result, certain features are built in to help support and transfer loads. For example, our heavy duty bunk bed frames have ladders that extend all the way to the ground to transfer loads on the ladder to the floor rather than allowing loads to pull on the sides of the frame. Moreover, with the ladder resting on the floor, the ladder acts as an additional leg supporting the upper bunk.
Similarly, the headboard and footboard each provide two feet to support the heavy-duty frame at each corner of the lower bunk. Moreover, the upper bunk is likewise supported at each corner. This allows the weight of the heavy-duty frame to be evenly distributed across the legs. As a result, the legs can firmly transfer the load to the floor.
For example, since both bunks can support a 500-pound load, the four legs each transfer 250 pounds of load to the floor. However, since the square steel tubing is perpendicular to the floor, the tubing can easily support the load.
Choosing a Heavy-Duty Metal Bunk Bed Frame
Facilities have many reasons for choosing a heavy-duty bed frame. Stronger and more durable bed frames reduce costs because they need to be replaced less frequently. Moreover, heavy duty bed frames can lower your facility's liability risk because they have a much lower likelihood of injuring residents. These benefits flow directly to your facility's bottom line, making your facility more profitable and better positioned to serve more residents.

---
ESS Universal manufactures and supplies high-quality, cost-effective commercial grade beds, mattresses, and furniture to camps, hostels, shelters, dorms and more. View our entire line of furniture products including our popular waterproof foam mattress for institutional use, single metal bed frames, single over single bunk beds, single over double bunk beds, and triple bunk beds. Download our catalog for detailed information on our complete product line.