When choosing hostel bunk beds for your hostel summer camp or holiday home you might want to give your guests that essential extra. Today's technology has given us many gadgets and these gadgets are constantly on our person, some are extremely valuable and those smart phones we are forever charging them!
Equipment Supply Solutions (ESS) has come up with a fantastic solution that will even get your organisation good feedback on social media as well as pleasing your guests!
ESS introduces the Utility Panel
The utility panel was designed for our Dallas hostel bunk beds however this durable, extremely versatile gadget forms an integral part of bedroom furniture or private office space.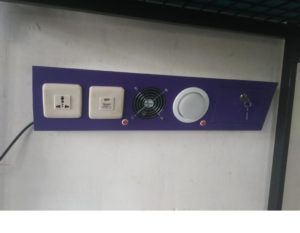 In many backpacker hostels young travelers have their own space within the sleeping compartment in a hostel bunk bed. The rooms at the hostel are shared and taking smart phones into a shower as well as valuables is not practical exposing the guest to a theft situation; fortunately the ESS Utility Panel has a key locker to store away valuables including a large smart phone.
The benefits of the ESS utility panel fitted to a hostel bunk bed
International power socket to charge up the tablet or laptop
USB charger for smart phone even when locked away!
A top shelf wide and long enough to place most gadgets
A solid metal body as strong as the hostel bunk bed itself!
A cooling fan for those warm nights will move the air within the compartment
A night light which will guide the guest into the compartment when main lights are out
A locker which will take the largest smart phone or those valuables!
of course as mentioned above, the ESS utility panel stretches further than just being for a hostel bunk beds, the handy little utility panel will even be an essential in that spare room you use for an office. How often is our desk cluttered with pencil cups, calculators, bits and pieces? Well the top shelf can handle all of these with it's solid metal shelf! As well as charging your smart phone away from your desk area yet at eye level and at arms reach!