Choosing mattresses for hotels, camps, dorms, or employee housing can be challenging. Especially since there are certain qualities to look for in beds that you'll use for these purposes, and those qualities are hard to find.
Of course, you want the mattresses to be comfortable and able to endure whatever comes their way, whether it be years of wear and tear, water damage, or bed bugs. Institutional mattresses from ESS Universal are a perfect choice for commercial use or intensive settings because they can withstand various conditions while also providing long-lasting comfort.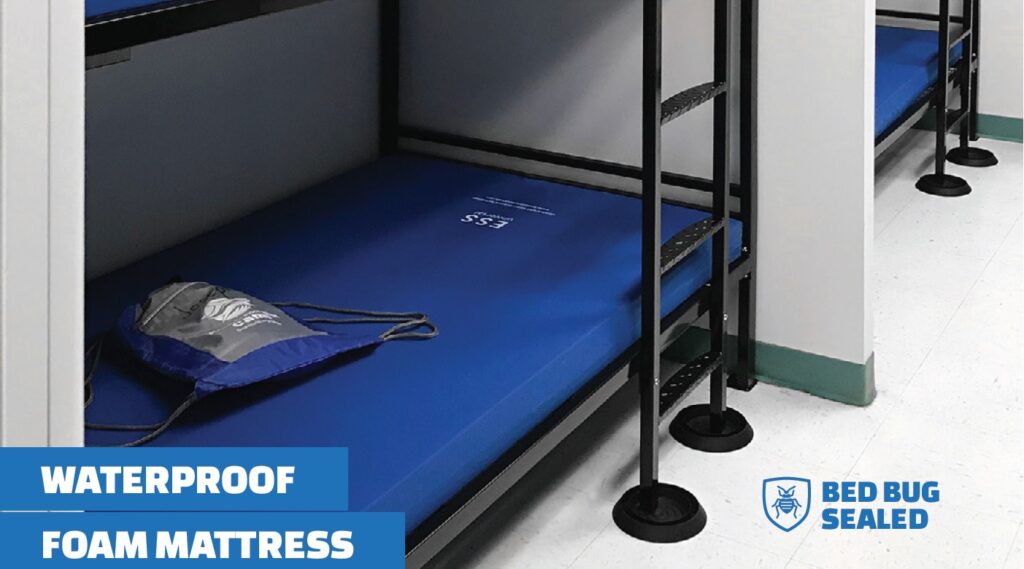 What Makes the ESS Institutional Mattress Perfect for Commercial or Intensive Use?
Check out some of the features that make the ESS Universal's institutional mattress made of high-density foam so versatile:
Water-Resistance
If you're in the market for a durable, long-lasting mattress, the most important mattress feature you can find is water resistance. The ESS Universal waterproof foam institutional mattress comes with a water-resistant cover that slips on and off the foam mattress easily with a zipper enclosure that wraps around three sides of the mattress.
This highly resilient mattress cover will not acquire any water damage, and cleaning is effortless. Plus, if it gets dirty, you can simply throw it in the wash or spot-clean it with a warm cloth and detergent.
Bed-Bug Resistance
Let's face it一when you're dealing with high-volume, intensive sleeping situations, like hotels, camps, and employee housing, you run the risk of getting bed bugs. Travel (and frequent coming and going) is the most common cause of bed bug infestations. These infestations can be very, very costly to your business, so it's essential to be sure that your institutional mattresses are resistant to bed bugs.
ESS Universal institutional mattresses are "Bed Bug Sealed," meaning they have been specifically engineered to resist bed bugs in high-traffic, intensive settings. When you choose these mattresses for commercial use, you can rest assured that you won't be dealing with a bed bug infestation! That means you can save yourself thousands on an exterminator.
Temperature Regulation
Another critical aspect of high-traffic, intensive mattress use is temperature control. Sleeping spaces containing many people can get very warm and uncomfortable if your bunks or beds have the wrong mattress.
The ESS Universal institutional mattress is highly breathable, which indicates how well the materials in the mattress distribute air, transport moisture, and keep dry. A breathable mattress can improve a sleeper's body temperature by decreasing humidity and increasing airflow.
A breathable mattress also has a longer lifespan than a regular mattress since the airflow and humidity conditions effectively reduce heat and moisture wear and prevent material degradation.
Hypoallergenic
Standard mattresses are notorious for collecting allergens and bacteria, which can wreak havoc on a sleeper. ESS Universal institutional mattresses made with hypoallergenic material can help reduce built-up allergens, leaving the user to breathe easier at night.
This feature is especially great for settings like outdoor summer camps, where windows may be left open throughout the day. The ESS Universal institutional mattress will not collect allergens that find their way inside the sleeping quarters.
Comfort
While resilience and durability are essential, you also want your commercial-grade mattress to be comfortable for the user. The ESS Universal waterproof institutional mattress consists of semi-firm high-density foam that curves to your body's contour, meaning it will give the sleeper a comfortable night's rest while also being heavy-duty.

ESS Universal manufactures and supplies high-quality, cost-effective commercial grade beds, mattresses, and furniture to camps, hostels, shelters, dorms and more. View our entire line of furniture products including our popular waterproof foam mattress for institutional use, single metal bed frames, single over single bunk beds, single over double bunk beds, and triple bunk beds. Download our catalog for detailed information on our complete product line.