If you want to avoid bed bugs the best thing to do is to avoid getting them metal loft bunk beds deter bed bugs when there are no holes for making cosy nests
What do bed bugs look like anyway?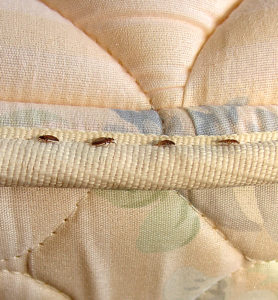 Now that you have made their acquaintance there are a few things that will help you avoid bed bugs.
1. Metal loft bunk beds deter bed bugs
Who can blame them, I just spent two weeks in the Bahamas much nicer than the drizzle. They breed faster when it is about 80 degrees, it takes approximately a month and a half for babies to turn into adults.
2. Bed Bugs are Travelers
They love hitching a ride. In your suitcase, or on your clothes. They don't mind going it alone, and are very social and tend to congregate with other bed bugs.
3. Bed Bugs are Mainly Active at Night
They are active usually when humans are sleeping. They like to find hiding places during the day close to beds. Those hiding places tend to be dark crevices, wooden skirting boards, air ducts, mattresses, wooden bed heads, etc. Therefore they do not have to travel far to feed.
5. Bed Bugs Hate Metal
Metal bunk beds are on their all time hate list. Why? Because metal bunk beds are cold. Remember they like the warm. A wooden bunk bed gives bed bugs a cozy place to live but metal bunk beds doesn't give them anything to live in.
How to help avoid bed bugs in hostels and holiday accommodations.
Clean up your clutter. Provide storage that is easy to clean like under bed storage lockers.
In busy hostels/hotels purchase foam mattresses with washable covers. Covers allow you to wash them at a very high temperature.
Provide mattresses without the cord around the side where bed bugs commonly burrow into.
Metal bunk beds provide fewer places for bed bugs to hide.
Ensure there are no unplugged holes in any component as below image explains
when metal is prepared for painting, a prosperous solution is used when the component is dipped, this solution has to drain. The hole is plugged after painting which prevents insects nesting inside ensuring the ESS statement metal loft bunk beds deter bed bugs