Twin bunk beds are a popular space-saving sleeping solution for many types of organizations. Whether you're furnishing a summer camp, halfway house, fire station, shelter, dormitory, barracks, or employee housing, twin bunk beds are an obvious choice for sleeping arrangements.
Not all bunk beds are created equal: Learn how metal twin bunk beds from ESS Universal stack up against other materials and manufacturers.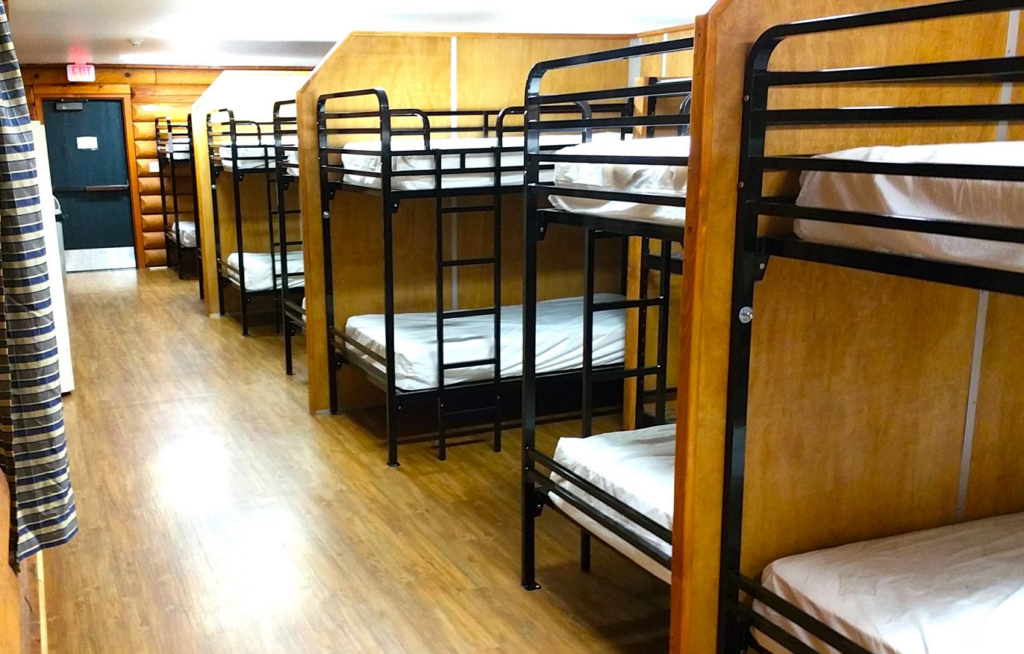 Twin Bunk Beds: Metal Frames vs. Wood Frames
When designing sleeping arrangements for your property, one of your first decisions is what material to choose. The warm, rustic appearance of wood frames may be tempting — but when it comes to twin bunk beds, metal frames have the upper hand in commercial settings. Why should you choose metal frame bunk beds?
Superior Strength and Durability
Metal frame twin bunk beds offer superior strength and durability over their wooden counterparts. Although wood is strong, it is susceptible to water damage, warping, and rotting. This is especially problematic in humid areas. As wood frames are exposed to humid air, they become weaker and unsafe.
With metal frames, you don't have to worry about these issues. ESS Universal bunk beds are made with strength and durability in mind and can hold up to 500 pounds on each bunk. This makes them great for sleepers of all ages and sizes, including kids, teenagers, and adults.
Easy to Assemble and Move
Solid wood frames tend to be trickier to assemble. And once assembled, dense wood frames are tough to move around. This can make regular cleaning and maintenance tasks difficult and renovations a nightmare.
Putting together ESS Universal bunk beds requires just a few basic tools, and assembly takes only about 20 minutes. When you have dozens of beds to set up, this is a serious time-saver. Additionally, the sturdy steel frames are hollow to keep the overall weight low and increase maneuverability.
Cost-Effective Solution for Any Shared Housing
Replacing your facility's bunk beds every few years is expensive and impractical.
That's why it's important to invest in bunk beds that will stand the test of time: ESS Universal twin bunk beds. Metal frames are essential for durability, but other features — including a poly epoxy powder coating and airtight construction — are what give ESS Universal bunk beds their longevity. This helps you save money in the long run.
Pest Resistant
Pests are a common concern in high-traffic areas and shared living spaces. Bed bugs are the most obvious offender, but termites, cockroaches, dust mites, and even carpenter ants can take up residency in your sleeping quarters, causing a big disruption.
Wooden beds with tiny gaps between the joints provide the perfect spot for these pests to hide and snack. However, ESS Universal bunk beds are not hospitable for pests and do not provide any place for them to hide within the frame. All joints are welded on all sides to ensure nothing can find its way inside.
Which Bunk Beds Are Right for My Organization?
If you're shopping for twin bunk beds, metal frames are the clear choice. But which ESS Universal bunk beds are right for your facility?
The Dallas Single over Single Bunk Bed and the Missouri Detachable Single over Single Bunk Bed are two excellent choices for commercial sleeping facilities. They both feature sturdy steel construction, supported by six cross members, along with heavy-duty mesh wiring.
The primary difference between these two beds is that the Missouri model can be detached to create two single beds. This flexibility is great for facilities with constantly changing or evolving sleeping demands.
Regardless of which model you choose, you can rest easy knowing you picked the right bunk beds for your organization when you go with ESS Universal.

---
ESS Universal manufactures and supplies high-quality, cost-effective commercial grade beds, mattresses, and furniture to camps, hostels, shelters, dorms and more. View our entire line of furniture products including our popular waterproof foam mattress for institutional use, single metal bed frames, single over single bunk beds, single over double bunk beds, and triple bunk beds. Download our catalog for detailed information on our complete product line.