Halfway houses are essential because they provide a structured setting to help residents transition back into the outside world.
However, these short-term housing solutions typically experience a lot of foot traffic and high turnover rates, with people from all walks of life coming and going. As such, halfway houses have a unique set of needs when it comes to sleeping arrangements. 
At ESS Universal, we are proud to help halfway houses across the country save money and provide reliable, sanitary, and comfortable sleeping arrangements with our Waterproof Foam Mattress. Learn what qualities are essential for the perfect halfway house mattress and what sets our mattresses apart.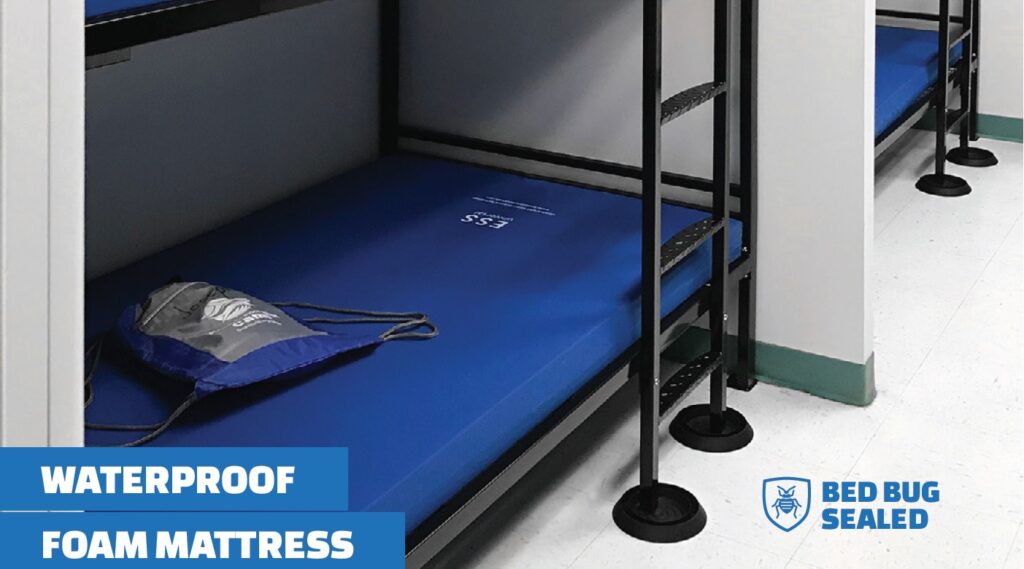 What Makes a Good Halfway House Mattress?
If you operate a halfway house or another transitional housing facility, you already know how important it is to choose the right mattress. But what specific features should you be looking for?
The ESS Universal Waterproof Foam Mattress has several benefits and useful features that make it the ideal choice for halfway house mattresses. 
Waterproof Seal
Accidents and spills are bound to happen in high-traffic areas like halfway houses.
Traditional mattresses absorb and trap whatever liquid falls on them. In contrast, our Waterproof Foam Mattress features a soft, waterproof polyurethane cover that encases the entire mattress. This impenetrable barrier protects the mattress from stains, damage, and mold caused by liquid spills.
Resistant to Pest Infestations
Thanks to the airtight seal provided by the mattress cover, ESS Universal mattresses are also resistant to pest infestations. This means that if you spot a bed bug, you can easily treat the affected bedding and control the spread without throwing out the entire mattress. Our metal bunk beds also provide an added layer of resistance to bed bugs.
Easy Maintenance
Compared to traditional box spring mattresses, ESS Universal mattresses are extremely simple to clean and maintain. Small messes and spills are easily cleaned up with a towel, warm water, and mild soap. And when it's time for a deeper clean, simply slip the cover off and toss it in the washing machine.
There's no arduous scrubbing or tedious spot treating when you choose ESS Universal for your halfway house mattresses.
Affordability
Frequently replacing mattresses due to damage, pests, or inadequate support gets too expensive. Our mattresses can last a decade or longer with proper care.
This sturdiness gives you a better bang for your buck than traditional mattresses and can help free up room in your budget for more important things. Once you stock up on mattresses, you won't have to worry about this expense for several years or until it is time to expand.
Hypoallergenic Materials
Finally, ESS Universal allows your halfway house to provide housing for residents regardless of their allergies. The Waterproof Foam Mattress is made with hypoallergenic materials that won't trigger sensitive textile allergies.
Additionally, traditional mattresses collect and trap common allergens like dust and pollen. These mattresses may trigger reactions in individuals with sensitive skin or severe allergies. ESS Universal mattresses do not harbor allergens and can easily be wiped down to eliminate any dust that has collected on them since their last use.
Everyone Deserves a Good Night's Sleep
At ESS Universal, we believe everyone deserves a good night's sleep. That's why we have designed our Waterproof Foam Mattress with health, safety, and comfort in mind.
In addition to being easy to clean and sanitize, our mattresses feature a semi-firm high-density foam core that provides the ideal balance of give and support. Additionally, the breathable polyurethane cover helps keep the user cool even during hot evenings.
Our mattresses are available in a wide variety of sizes, including custom ones, to match the specific dimensions of the beds at your halfway house. 

---
ESS Universal manufactures and supplies high-quality, cost-effective commercial grade beds, mattresses, and furniture to camps, hostels, shelters, dorms and more. View our entire line of furniture products including our popular waterproof foam mattress for institutional use, single metal bed frames, single over single bunk beds, single over double bunk beds, and triple bunk beds. Download our catalog for detailed information on our complete product line.