ESS is a metal bunk bed manufacturer and specializes in queen size bunk beds for adults and all the accessories that go with a typical commercial set up whether it be a scout camp or backpacker hostel. Most of these organisations accommodate adults that can be over six feet tall and a body weight of 300 pounds plus; Equipment Supply Solutions recognizes this and have taken design steps to ensure every model loft bed is robust enough to outlast many other models on today's market.
Queen size bunk beds for adults
So what if the adults using the bunk beds are over six foot tall? ESS is a manufacturer, therefore any loft bed made by our company can be bespoke [Custom made]. In fact at ESS we have a saying; "If it can be made, we can make it"! Below is an image of our most popular product we call the D2, the D2 is a twin over twin bunk bed and at ESS we strongly believe the Dallas D2 bunk bed is the strongest military style bunk bed in it's class!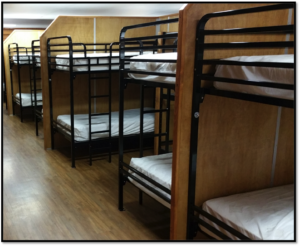 Special benefits of choosing the Dallas bunk bed range
It is said that black goes with anything, the Dallas bunk bed range in gloss black is quite striking when fully dressed with the many accessories that ESS has to offer, however the Dallas offers so much more than good looks!
The Dallas range is manufactured from 1.0 to 1.2 wall thickness steel and is fully seam welded
This queen size bunk beds for adults boasts a full length size and comes in any width
The lower sleeping compartment allows a fully grown adult to sit upright when using our M1 mattress
Every Dallas hostel bunk bed has many optional extras such as a bed bug proof protection
The sleeping platforms on the D1, D2 and D3 is 500 pound rated!

---
ESS Universal manufactures and supplies high-quality, cost-effective commercial grade beds, mattresses, and furniture to camps, hostels, shelters, dorms and more. View our entire line of furniture products including our popular waterproof foam mattress for institutional use, single metal bed frames, single over single bunk beds, single over double bunk beds, and triple bunk beds. Download our catalog for detailed information on our complete product line.