When searching for queen size bunk beds for summer camps or hostels looking for heavy duty bunk beds then why not visit ESS one stop shop manufacturer direct for big quantity only ESS has the Dallas or Missouri range which we believe is probably the strongest bunk bed range in the world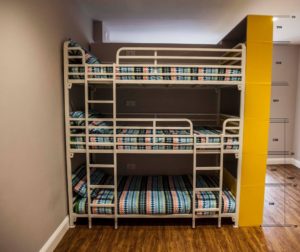 Made from 1 to 1.2 wall thickness steel, fully welded this D3 triple bunk bed is the tallest in the range. Each sleeping platform are rated up to 500 pounds, the wedge connecting system fully bolted surely makes these queen size bunk beds the most robust!
Let's be honest, financing bunk beds mattresses and equipment is expensive, too many times Summer camps, scout camps, universities and even military receive inferior or bunk beds designed the domestic market; the end result are broken or bent side safety rails, sleeping platforms that become curved downwards.
How to avoid inferior queen size bunk beds
In this modern era most bulk purchasers surf the internet using the Google search engine, many key words are used, however right up there is the term heavy duty bunk beds, this term can bring lots and lots of results. As well as ESS Universal there are many companies that offer these so called heavy duty bunk beds but very often this term is misused, there are many kinds of beds and bunk beds from timber to steel, plastic to pod type so ESS Universal advises camp bunk bed purchasers to choose wisely when surfing for queen size bunk beds.
Look for the obvious signs, can you see the image close up? I mean very close up! As a good example have a look below at the close up images of the Dallas bunk bed detachable which shows a robust solid steel construction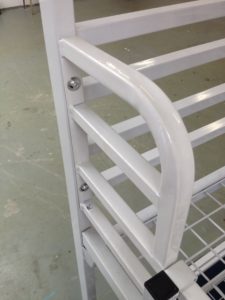 of course the best way to ensure superior quality queen size bunk beds is to contact ESS direct!
ESS Australia/NZ: Ms Tegan Lewis tegan@essuniversal.com
ESS USA/Canada: Mr Dick Bouman dick@essuniversal.com
ESS UK/EU: Mr Stefan Arnarson stefan@essuniversal.com
ESS Africa/Middle East: Mr William Lewis phil@essuniversal.com
ESS China/Asia Pacific region: will@essuniversal.com