Need tough and reliable stackable metal bunk beds that go together easy and refuse to fall apart? Try our Missouri single over single detachable bunk beds!
Our detachable (or stackable!) bunk beds make optimizing sleeping space in your fire station, dormitory, military barracks, or sleepaway camp a breeze. Make the most of your vertical space with our sturdy stackable bunks while still keeping the option to create two single beds at your leisure.
Why Choose our Missouri Detachable/Stackable Bunk Bed?
There are plenty of other stackable twin bunk beds on the market, but none of them offer what our Missouri bunk bed does.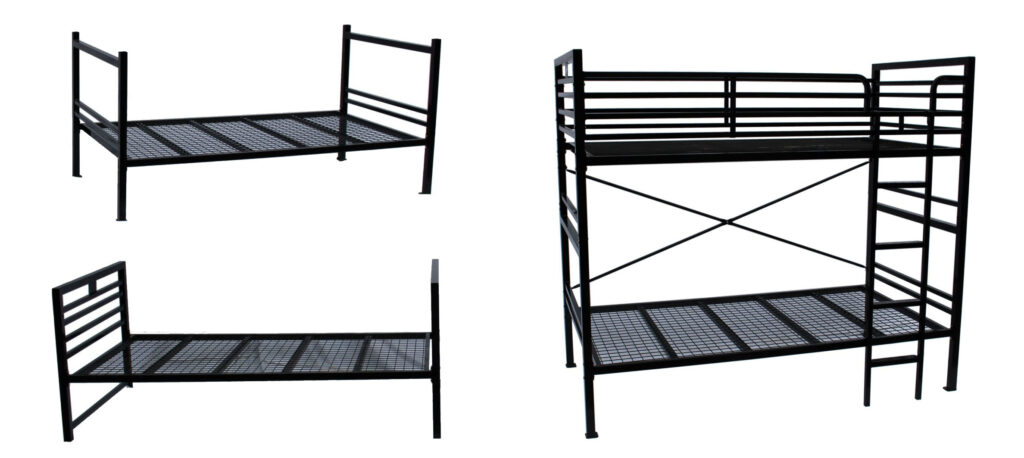 Our sturdy and durable bunk beds are outfitted with industrial-strength cross members and are rated to withstand 600 lbs. on both the top and bottom bunk. They refuse to bend or break, and when combined with the option to detach, the Missouri gives you a uniquely useful and reliable bunk bed.
Many other stackable bunk beds on the market have flimsy ladders or frames that squeak. Nobody wants to fear a fall during their climb, or stay up all night listening to their bed screech with every toss and turn once they've made it up. With our Missouri bunks you don't have to worry about either of these issues. Our ladders extend to the floor so that your bodyweight can be evenly dispersed, and the ridged spring-free design makes for a silent night, every night.
Stacking Saves Space
If your pressed for room with your sleeping arrangements, stackable metal bunk beds are a great option. Every room has a ton of vertical space that goes unused. Bunks can literally double the amount of room you have for beds while opening up invaluable floor space. Use that extra space to your advantage by creating a more orderly sleeping area or opening up room for storage. And if you don't need to utilize all of that vertical space, you always have the option of creating two single beds.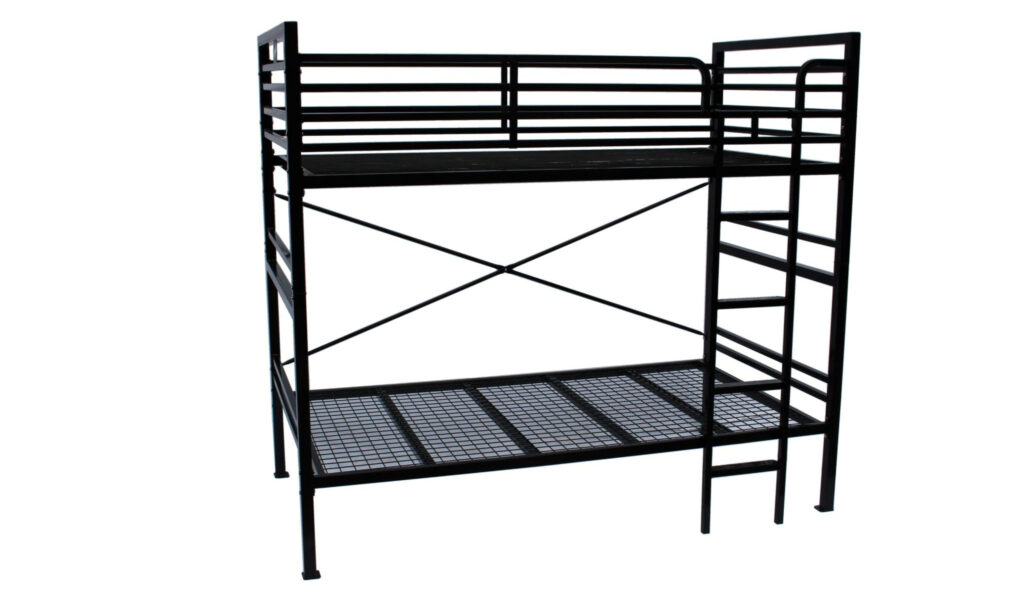 Pleasing to the Eye
Our ESS Missouri bunks are the toughest stackable bunks we have to offer, and the most convenient, but that's not the only reason they're perfect for your high traffic sleeping arrangements. We've paid particular attention to creating a sleek, modern design that will keep the area looking as pleasant as it does organized.
No Bed Bugs
Bed bug infestations are an absolute nightmare. One of the best ways for them to spread is through shared sleeping spaces. Fortunately, ESS Missouri stackable twin bunk beds are designed to be bed bug resistant. No need to worry about any impossible-to-eliminate infestations.
The Finest in Stackable Metal Bunk Beds
ESS Missouri stackable twin metal bunk beds are easy to assemble, easy to move, and durable as they come. Make the most out of your fire station, dormitory, military barracks, or wherever it is you'd like to utilize your vertical space and create optimal sleeping arrangements for the maximum amount of people. To learn more, check out the Missouri Detachable Single Over Single Bunk Bed.

---
ESS Universal manufactures and supplies high-quality, cost-effective commercial grade beds, mattresses, and furniture to camps, hostels, shelters, dorms and more. View our entire line of furniture products including our popular waterproof foam mattress for institutional use, single metal bed frames, single over single bunk beds, single over double bunk beds, and triple bunk beds. Download our catalog for detailed information on our complete product line.