You may have said it to yourself in a hundred different situations: "They can send a man to the moon, but they can't . . . ."
Of course, you can finish the sentence in a variety of ways:
"Cure the common cold."
"Make a radial tire that doesn't go flat."
"Invent a better mousetrap."
Well, ESS Universal has done it. Not the mousetrap, but maybe something even more satisfying: the best way to change sheets on a bunk bed.
If you've ever had this duty, you know how it can drive you nuts. The mattress of the upper bunk is at just the right height to make access a pain. If the bunk is against the wall, you have only one avenue of attack. You either end up kneeling on the mattress while you try to arrange the sheets, or perched on the ladder trying to reach over to the other side.
Slipping off a ladder can be humiliating, and a little dangerous.
And then imagine that it's not just one bunk bed to be changed, but 50. And you have to go through the same silly, gymnastic ritual for each one of them.
Does life really have to be like this? After all, they can send a man to the moon . . . .
The Game Changer
Enter Wonder Tray.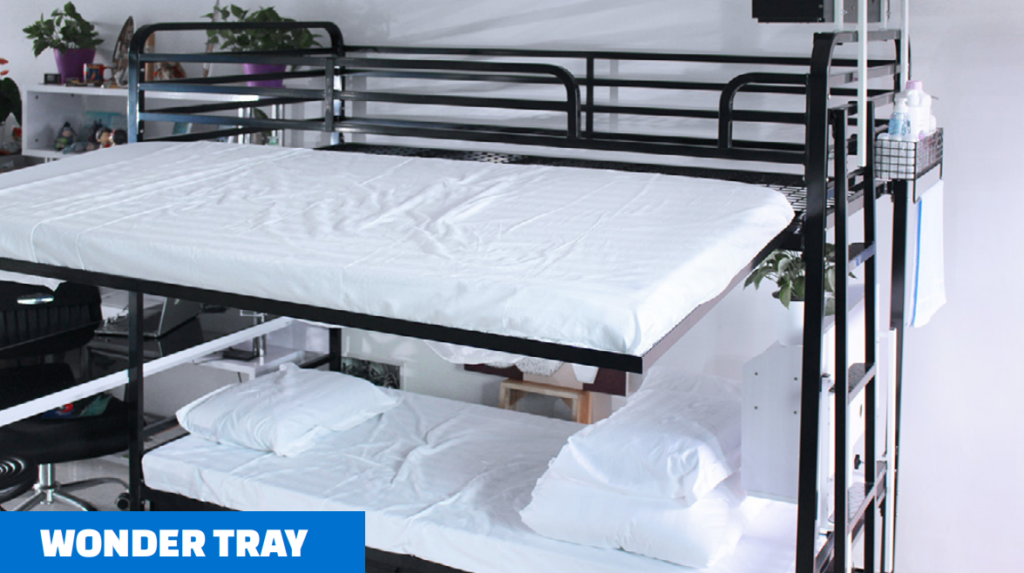 Wonder Tray is an ingenious accessory that modifies ESS Universal's standard heavy duty bunk beds. With Wonder Tray, the top bunk mattress slides out to meet you, so you can easily change the sheets from all sides. It's fast, clever and efficient (and, of course, patent protected). The easy-glide mechanism makes it absolutely the best way to change sheets on a bunk bed. It's like having a "mattress in a drawer" that moves at your command.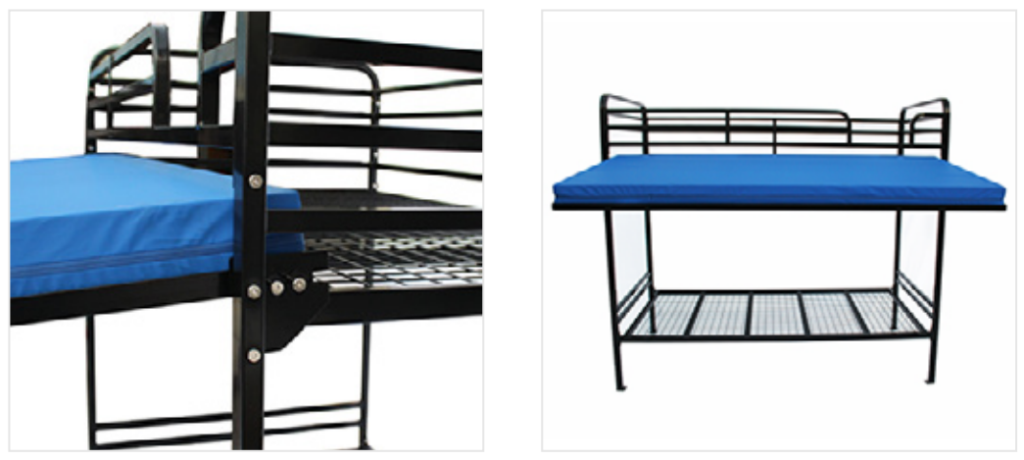 We don't mean to be immodest, but the Wonder Tray is exactly the kind of innovation you should expect from ESS Universal. We not only believe in making quality products (including the toughest heavy duty bunk beds in the industry), but in continually improving our products to serve our customers better. The old saying, "Necessity is the mother of invention," is certainly true of the Wonder Tray.
Now, who could make the best use of the Wonder Tray?
Maybe you're a parent who's tired of this upper bunk chore. Maybe you're a business person or the manager of an organization that uses many bunk beds in their operation, such as a youth hostel, a mission, a shelter or a camp. Whatever your situation, we're sure you can imagine the possibilities for what Wonder Tray can save you in time and aggravation alone.
Think of it: No more frustration, straining and struggling, and no more safety hazards associated with climbing around to do what should be a very simple task.
Everything You Need
The Wonder Tray comes in a standard modification kit that includes the Wonder Tray, a fast-release ladder, a replacement safety rail (which makes room for the mattress to slide out), and accompanying hardware. It's very straightforward and easy to install, using a few simple tools.
We think you'll agree that the Wonder Tray makes for the best way to change sheets on a bunk bed. In fact, you may kick yourself and say, "Why didn't I think of that?" After all, they can send a man to the moon . . . .

---
ESS Universal manufactures and supplies high-quality, cost-effective commercial grade beds, mattresses, and furniture to camps, hostels, shelters, dorms and more. View our entire line of furniture products including our popular waterproof foam mattress for institutional use, single metal bed frames, single over single bunk beds, single over double bunk beds, and triple bunk beds. Download our catalog for detailed information on our complete product line.