Bunk beds are one of the best ways to optimize space in any commercial or residential facility. In addition to providing compact yet comfortable sleeping arrangements, bunk beds impart a little aesthetic flair to any sleeping area. So whether you are outfitting dorms, decorating a hostel, or even operating a summer camp, bunk beds are the obvious solution to a variety of potential problems.
Why Choose The Dallas Single Over Double?
The Dallas single over double bunk bed makes an excellent addition to any sleeping facility. In fact, when it comes to sturdy bunk beds twin over full is one of the most popular choices for family-friendly sleeping arrangements. Additionally, there are many useful features for sturdy bunk beds twin over full for facilities such as hostels, camps, and more.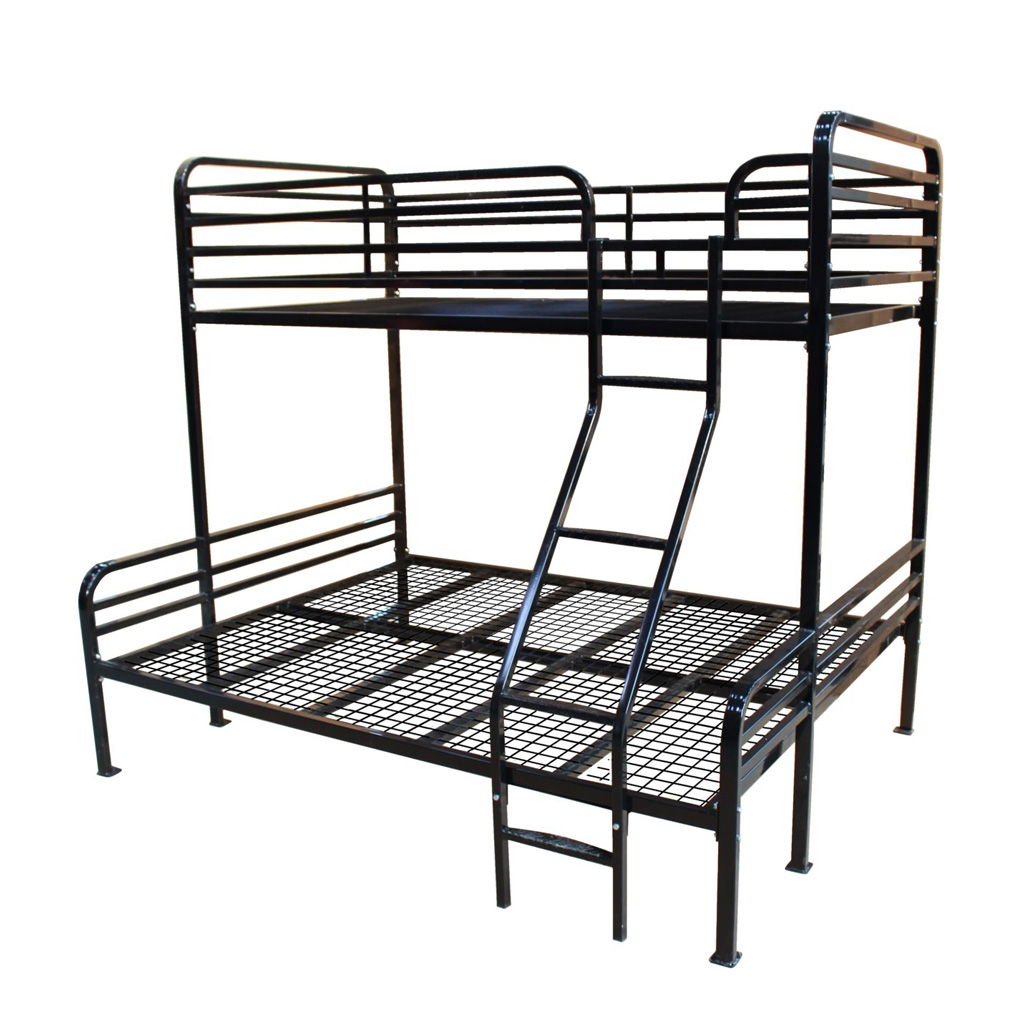 Single Over Double Or Twin Over Full?
Why not both? Keep in mind that when it comes to sturdy bunk beds, twin over full and single over double are actually the same thing—so don't get confused over terminology. Most twin/double frames therein are approximately 80 inches long, perfect for the tallest and shortest family members alike. However, with twin over full bunk beds, you have the convenience of a single twin combined with another level that can accommodate two individuals. They also contain guardrails connected to the headboard and footboard for added rigidity and extra safety.
Durability Is The Name Of The Game
The Dallas single over double bunk bed is built with durability and longevity in mind. Its six legs ensure that support will never be an issue, while its industrial-strength metal and mesh panels provide the durability required for a relaxing night's sleep. Speaking of sturdiness, both top and bottom platforms can support up to 500 pounds. Additionally, both top and bottom bunks meet UK entrapment hazard standards, so you can rest assured knowing all occupants will be free from any structural danger.
Water And Pests
While Dallas bunk beds are certainly designed with convenience, comfort, safety, and durability in mind, they are also perfect for fulfilling the needs of a vast number of individuals. The frames themselves are constructed from metal tubing that is welded on every side for ample resistance. This design allows the structure to remain free from water and pest intrusions. Of course, this means you will not have to worry about bed bugs, mold, mildew, and other dangers caused by water and pests.
Rest Easy
When combined with a waterproof mattress, Dallas frames are more than capable of providing a good night's rest with the utmost resilience and resistance to the elements. For the best results, we recommend a mattress with semi-firm, high-density foam. These types of mattresses are hypoallergenic, keep sleepers cool, and are relatively easy to wash.
---
ESS Universal manufactures and supplies high-quality, cost-effective commercial grade furniture products. View our entire line of furniture products including our popular waterproof foam mattress for institutional use, single metal bed frames, single over single bunk beds, single over double bunk beds, and triple bunk beds.