Save space with this amazing under bed storage locker.  Why go up when you can go under?
Imagine having an under bed storage locker to guard your treasurers from your nearest and dearest. Anyone that has a brother or sister knows how annoying it is to get something from your room, only to find it has vanished.
Under Bed Storage Lockers for all your goodies
We designed our under bed storage lockers to roll neatly under our range of Dallas bunk beds.
Children use them to keep their toys tidy, but also to keep curious siblings from playing with something they shouldn't.
Wire Mesh Keeps Things Clean & Fresh
A fundamental feature of the under bed storage lockers is the wire mesh. This is important for hostels, boarding schools or even universities, where more than one occupant resides in the room.
Mechanics and cleaners take advantage of these storage lockers to store cleaning rags.  The air flows through the lockers making it the ideal storage solution.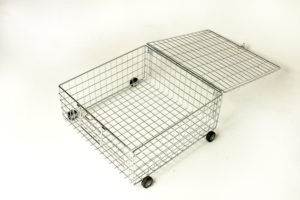 Under Bed Storage Lockers Built to Last:
4 Heavy duty wheels
Lockers glide from under the bed with ease
Adjustable backstop to stop the locker from fully coming out from under the bed
No grime build up inside
'Lock n leave' system keeps items for the key holder
1 year guarantee
250mm depth means the locker will glide under most beds that are on legs