The space under your bed is notorious for becoming cluttered and crammed with clothes and other belongings. If you want to maximize your storage and organization in any room, even while you travel, having under-bed storage with wheels is essential. 
Learn more about how under-bed storage with wheels can transform your spaces and travel experiences so you can make the most of where you sleep.
Places With Limited Storage Space
You've likely been there — when it's time to spring clean, you see all of the clutter and clothing piled underneath your bed. This becomes overwhelming, especially if you don't have another area to store your stuff. You might experience this problem in a variety of locations, which is why under-bed storage with wheels is so important.
College Dorm Rooms
Headed off to further your education? There's likely minimal storage space in your dorm room. To make the most of your college living arrangements, use under-bed storage fixtures and keep your space clear of clutter. 
Camps
When you're going to camp or have an extended stay out in nature, you probably run into storage problems. Under-bed storage can transform the way your campers travel; these fixtures provide more space to store your most precious belongings without taking up surface area in your cabin, tent, or house. 
Hostels
If you're renting a room and don't have much space to work with, storing things under your bed is a no-brainer. Using our convenient Under Bed Storage Lockers, you don't have to worry about a crammed under-bed space in your hostel. Plus, their locking ability adds an extra level of security for travelers.
Under Bed Storage Lockers: The Solution to Your Storage Problems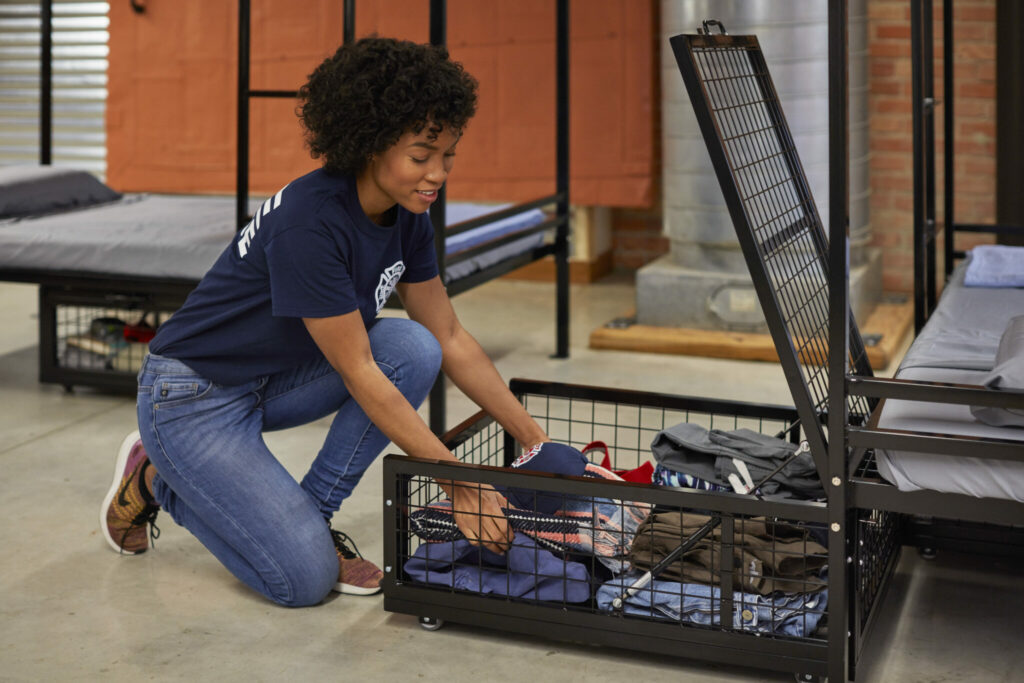 No matter where you are, you can benefit from using our Under Bed Storage Lockers. These lockers are innovative and designed to remain sturdy over several years. They come with smooth wheels that easily glide in and out of tight spaces. 
These lockers are made out of heavy-duty wire that protects your belongings from being crushed, wrinkled, and otherwise damaged. With these lockers, you never have to worry about having a disorganized space again.
You can prevent messes easily if you have enough storage underneath your sleeping space, whether it's a bed, bunk bed, cot, or futon sofa. Our storage lockers are designed to promote airflow and keep out bad odors — but we still recommend washing your dirty gym socks before storing them.
Using Your Under Bed Storage Locker
Our Under Bed Storage Lockers couldn't be easier to use — simply place your belongings inside and roll the lockers underneath your bed! It's that easy to get a neat, tidy room again.
You don't have to settle for flimsy room organizers and piles of clothing underneath your bed. By using the Under Bed Storage Locker, you allow yourself plenty of storage space to work with (and your belongings remain out of sight).
Increase Your Storage for a Neater Living Space
No matter where you are, it's important to keep a clean living space. Clutter adds to mental stress and anxiety, so it's essential to stay as tidy and organized as possible. You can accomplish this by increasing your under-bed storage space to maximize your room's surface area as much as possible. 

---
ESS Universal manufactures and supplies high-quality, cost-effective commercial grade beds, mattresses, and furniture to camps, hostels, shelters, dorms and more. View our entire line of furniture products including our popular waterproof foam mattress for institutional use, single metal bed frames, single over single bunk beds, single over double bunk beds, and triple bunk beds. Download our catalog for detailed information on our complete product line.