So you are looking to buy a Varidesk, congratulations but ensure you buy the original at VARIDESK. Also available is the smartly designed and simple to set up and easy to use is the ESS Varidesk office desk power panel specifically designed to clear the clutter on your office desk. No assembly and easy to install this cleaver office power panel will give amazing benefits!
Screwed to the wall above your current desk this office desk accessory boasts its unique values and benefits:
A full metal jacket [body] that is tough and last for years
International power socket to charge up your tablet or laptop
USB port powerful enough to charge any smart phone or gadget
A reading light to give that extra illumination over your workspace
A cooling fan to move the air around you while you work in a stuffy office
A storage locker to lock away valuables which is large enough to house a smart phone on charge
A generous shelf allowing all that clutter to be away from valuable desk space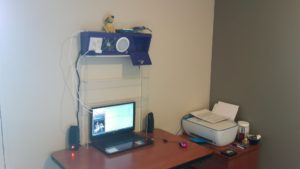 We also made our Varidesk office desk power panel for another amazing use! Our utility power panel was originally designed for the university dorm bed accessory but is fast becoming used for many children's bedrooms fitted on an adjacent wall giving power to all the modern gadgets and a soft night light.
Apart from your home office, there are many places that the ESS  Varidesk office desk power panel can be used:
Smart uses for the ESS Varidesk office desk power panel:
Kids bedrooms
Home office desks
in the workshop or garden shed
University dorms
Backpacker hostels
Military dorms
Anywhere that our military bunk beds are used
Check out our different product series on our brochure website and find the right contract product solution for your workspace or sleeping / studying space.