Commercial Bunk Beds Camps Buyers Guide
At ESS Universal we are always here to help, different from your corner shop, ESS is a commercial hostel bunk bed manufacturer, here is our Commercial Bunk Beds Camps Buyers Guide especially for you; the camp buyer!
Traditional bunk beds in any camp or international traveler's hostel tended to be made from wood. Nowadays the traditional summer camp across the USA and many parts of the world including girl and boy scouts are turning to metal over wood.
Reasons why commercial bunk beds are turning to metal
The biggest reason for the material change is that wood does not match the longevity of metal
Metal is not a warm, natural material deterring bed bugs from setting up home in your bunk beds
Wood is a living breathing material meaning it can expand in a damp winter and retract in a dry summer causing joints to open and close therefore premature wearing of those joints
An all metal bunk bed is totally 100% recyclable at the end of its useful life
Carrying on the commercial bunk beds in camps a buyers essential guide we turn our attention to safety, after all most camps accommodate children of all age groups.
No matter how old or young those children are and no matter what rules you have in place kids will play! To most younger kids a camp bunk bed is a climbing frame or even a play den! It is so sad to think that in the United States alone on average 12 children die every year and many more are seriously injured; this calls for tough restrictions and design guidelines set out by government safety regulators.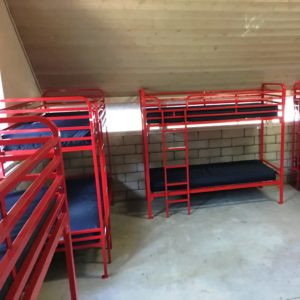 ESS Universal is a responsible bunk bed manufacturer and ensures the design of all its camp bunk beds meet strict guidelines www.cpsc.gov/Business–Manufacturing/Business-Education/Business-Guidance/Bunk-Beds/
Sadly there are many bunk bed manufactures that simply do not manufacture with safety in mind this is why we at ESS invite you to buy safely with us and take full advantage of our team spirit in staying with you many years after point of sale, this is why ESS produced this handy Commercial Bunk Beds Camps Buyers Guide
We hope you got a lot out of it!