Today at ESS we discuss strong metal bunk beds in many capacities especially where it is vital for longevity in a commercial bunk bed situation such as a in a summer camp dormitory or university or even an international travelers hostel
Strong metal bunk beds the important bits
Steve McQueen acquired those bunk bed wooden slats for the escape tunnels Tom, Dick and Harry in the movie The Great Escape, how we all laughed to see his colleague sing, jump up on the top compartment only to plummet to ground level!
But in all seriousness a bunk bed is not a toy, in fact a bunk bed has a top sleeping platform that is high enough to cause injury or even death! This is the extreme end of safety issues with bunk beds, however did you know that many children are killed or seriously injured around the world every year, adults are no exception with major injuries concurring falling from bunk bed top platforms.
ESS Universal is a commercial hostel bunk bed manufacturer who are specialists in their field, ESS engineers design commercial strong metal bunk beds for the contract market and many would say the best in the world! Commercial strength is as important as safety aspects because safety issues are often related to poor design or poor inferior bunk bed materials.
Why is ESS Universal bunk beds better?
Strong heavy grade steel fully welded ensures components last and cannot break
Designed to comply to USA UK and UN regulations on entrapment and strength standards
Purpose made for a commercial metal bunk beds environment such as traveler hostels
Can be bolted to the floor
When used with the ESS bed bug proof mattress is a sure defense against insect infestation
Strong, sturdy and tough, the ESS Missouri or Dallas bunk bed system is the best bunk bed in the world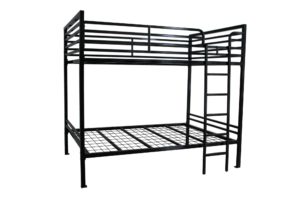 Why not visit ESS Universal today? ESS is a volume quantity commercial bunk bed manufacturer but did you know ESS USA now sells individual bunk beds online via the ESS website? Check out ESS today!
www.heavydutybunkbeds.com [The globe]
www.heavydutybunkbeds.cn [China Asia Pacific Region]