ESS Iowa the world's strongest full adult bunk bed bunk is now available from ESS Universal USA in a single bed double bunk bed and solid detachable bunk bed but soon available from your global ESS outlet
The Iowa full adult bunk bed was developed by ESS designers to fill a need in the market where supreme strength was needed. ESS Universal to date has offered the successful Dallas and Missouri commercial hostel and camp bunk bed range which gives camps, hostels, employee accommodation organisations the correct full adult bunk beds they need. Yet ESS Universal listening to their customers knew that we had the ability to go even further in developing an even stronger, more robust full adult bunk bed.
ESS Universal and its associated global groups honor servicemen and women and decided long ago to honor some of the mighty ships of the US Navy by naming its commercial strength full adult bunk bed range after them.
ESS is proud to introduce The Mighty Iowa full adult bunk bed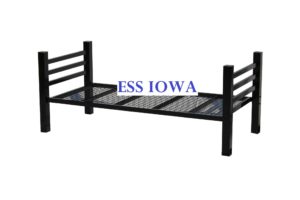 The Iowa commercial single bed and bunk bed range boasts pure strength and like its Dallas and Missouri siblings, is totally insect and bed bug proof!
Why choose the Iowa for a single bed? Let's take a look at just some of the benefits below:
• 2mm thick plate makes up the 3 & 1/8 inch [80mm] square corner posts
• 1.2mm 2" x 1 & ½ " [50×35] cross members on both head and foot
• ESS Iowa full adult bunk bed being bed bug proof ESS seam welds every joint on every side of each tube
• Sleeping platforms on every level boasts 1.2mm thickness steel 2x 1 & ½ inch [50x35mm]
• Sleeping platform is pure strength rated at a massive 650 lbs!
As a customer, when you buy the Iowa you are investing into longevity as well as new innovation; the Iowa is bought as a solid full adult bunk bed or an Iowa single bed that combines with more single beds to form detachable type bunk beds double and triple tier.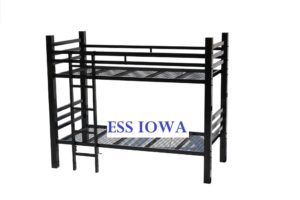 Traditional ways to make a detachable bunk bed out of single beds often end up being flimsy and seemingly unstable, ESS Universal designers employed the use of engineering bolts to pull the two single beds together from top and foot to make a solid joint as you would find on the Mighty Iowa Warship!
Ask our ESS friendly sales staff why either the Dallas, Missouri or Iowa would benefit your full adult bunk bed needs today
www.heavydutybunkbeds.com