How do you know if your home is free from bed bugs? The good news is that bed bugs are one type of critter that you can spot with the naked eye, whether they are alive or dead. Learning how to spot a dead bed bug is a bit tricky because they are quite small, but you can do it if you know what you are looking for.
What do dead bed bugs look like? Here are a few pointers to help you spot these unwanted bugs in your home.
What Do Dead Bed Bugs Look Like on Your Bed?
The appearance of dead bed bugs depends, in part, on what stage of life the insect was in when it died.
Adults are the easiest bed bugs to spot because of their larger size. A full-grown bed bug will be about five millimeters long and resemble a fruit seed. They will be brown to red, which means that they should stand out against the white of your mattress.
Nymphs are juvenile bed bugs, and they are a bit more difficult to spot. They can range in size from that of a sesame seed to that of a fruit seed, just like the adults. However, they are often white and assume darker colors as they age.
Last but not least, you will want to know how to spot bed bug eggs. This investigation is easily the trickiest part of telling whether you have dead bed bugs on your hands.
The eggs are so tiny that they are about the size of a grain of sand. You will have to look extremely closely if you think that you may have bed bug eggs, whether they happen to be alive or dead.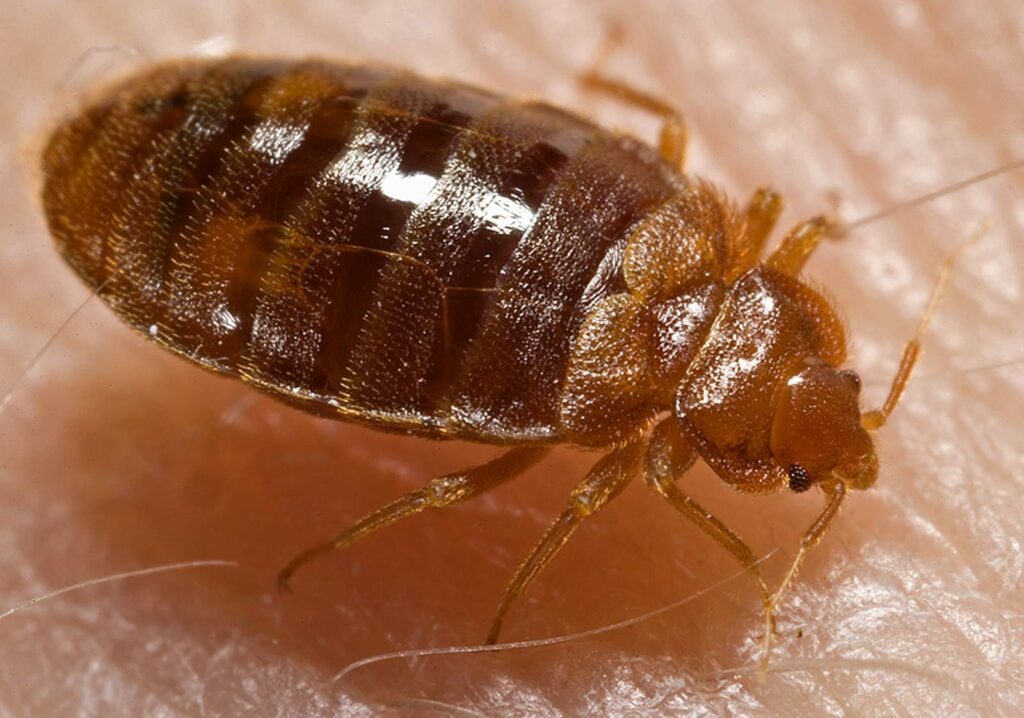 Signs of Dead Bed Bugs
If you think that you might have a bed bug infestation and want to know if they are alive or dead, there are a few telltale signs that you want to keep an eye out for. What do dead bed bugs look like, and what do they leave behind?
First, look in all of the places where bed bugs like to burrow. They are commonly found in the nooks and crannies of your home, not just the mattress, as many people assume. Survey the room and look into:
Cracks in the floor or walls
Crevices in the furniture
Suitcase interiors
Bedding
While you may not be able to positively identify a single dead bed bug, you will know if you have an infestation that needs clearing out. Dying bed bugs often leave blood and feces in the areas that they call home. To the untrained eye, this simply looks like a red or brown trail that is left behind as a residual stain.
You might also think that you have spotted a dead bed bug, but it could just be a shell. As bed bugs molt, they will leave behind their old skin. This shell is sometimes what people happen upon before mistakenly believing that their bed bug infestation is over.
In reality, it can take weeks to treat an active infestation. It often requires the assistance of a qualified exterminator providing professional treatment to see an end to your bed bug infestation. It may even require more than one treatment to get the desired effect of banishing bed bugs for good.
Get Professional Help
For those who spot a dead bed bug, you should know that there are likely others nearby. Bed bugs lay eggs and breed extremely quickly, so you should always call an exterminator to have your home or business assessed and treated.
What do dead bed bugs look like? Keep your eyes open for some of the signs listed above that indicate you might have a problem on your hands.

---
ESS Universal manufactures and supplies high-quality, cost-effective commercial grade beds, mattresses, and furniture to camps, hostels, shelters, dorms and more. View our entire line of furniture products including our popular waterproof foam mattress for institutional use, single metal bed frames, single over single bunk beds, single over double bunk beds, and triple bunk beds. Download our catalog for detailed information on our complete product line.