Bunk Beds Mattresses And Bed Bugs Is Your Camp Prepared?
If your camp has found bed bugs and even preparing for an infestation then you need to read on. ESS Universal has prepared a fact sheet as written below to help our camp customers.
Below is some helpful advice in combating these little critters
Bed Bugs are nocturnal creatures that are no bigger than the size of a match head yet for their size they create the most uncomfortable night you have ever had and the lasting affects of a bed bug bight can last for days. Normally travelling in groups of 7 to 10 they will practically do anything to get into bed with you!
As we have said above, bed bugs are nocturnal creatures so if you suspect that your camp dormitory has bed bugs then looking for them during the day is pretty useless. Bed bugs like warm places to hide such as wooden cladding joints, wooden skirting boards, even wooden bunk beds and the rope cord around the mattress perimeter. It is best to detect these creatures during the night with a powerful flash light, check all areas around the bunk bed, mattress surface on both sides and remove all bedding and hot wash.
Getting rid of bed bugs can be exhausting work! Bed bugs are tenacious and tough, adult bed bugs can live up to 12 months without feeding and are resistant to most chemicals. Heat kills bed bugs better than cold, if you can reach a temperature of 49 to 50 Celsius and hold it for a day you will successfully kill any bed bugs exposed to this heat. Hot machine wash and hot tumble dryer will also kill bed bugs, this is ideal for bedding. Mattresses, beds and wooden walls need vacuuming with a blade type nozzle ensuring you suck into every nook and cranny to ensure you get every bug. Remove vacuum bag and seal in a tied up plastic bag and dispose of immediately.
Prevention is better than cure – what steps to take to help you
It is our opinion that there is no one solution but taking every practical precaution can help. Bed bugs like to live near a good food source and seeing as they live on blood, are nocturnal and thrive in warmth, then a camp should consider denying all these comforts as much as possible.
Wood not good, metal is king!
Bunk beds mattresses and bed bugs is your camp prepared? How tempting it is to accept second hand equipment or hand me downs, this is financially pleasing but for a camp it can be a disaster! Are you importing some other camps issues without the donor realizing it?
New equipment is not cheap, choosing metal can be a good choice if that choice is commercial metal bunk beds; strong, practical in today's camps and cold! The alternative is wood yet this is offering a warm environment which bed bugs like.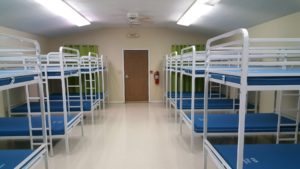 Dallas D2 bed bug proof camp bunk bed setup
The Dallas commercial bunk bed range is probably the only bunk bed on the market that is bed bug proof. ESS engineers ensure every square tube of the structure is fully seam welded on all 4 sides. This practice prevents entry into the tubes of any insect including bed bugs!
Choosing the right mattresses can save you in the long run
In your bed shop, on the web you will find an array of mattress types, however choosing a commercial high density foam type mattress which is fully encased in a sealed cover that has no seams or joins is pretty much perfect for the camp bunk bed set up. What also helps is if that cover is removable, hot machine washable and water resistant. ESS offers these fantastic mattresses which will help in deterring bed bugs from setting up home on your equipment
The ESS bed bug proof camp mattress
Completely seamless means bed bug prevention
Removable water resistant cover that breathes so no sweating
Cover is hot machine washable killing any signs of bed bugs
28 kilo per cubic meter high density foam gives maximum ILD superior comfort
 Cover is soft to touch and makes no hard plastic noise when sleeper turns